Electric portable stationary cement 500 litre JS500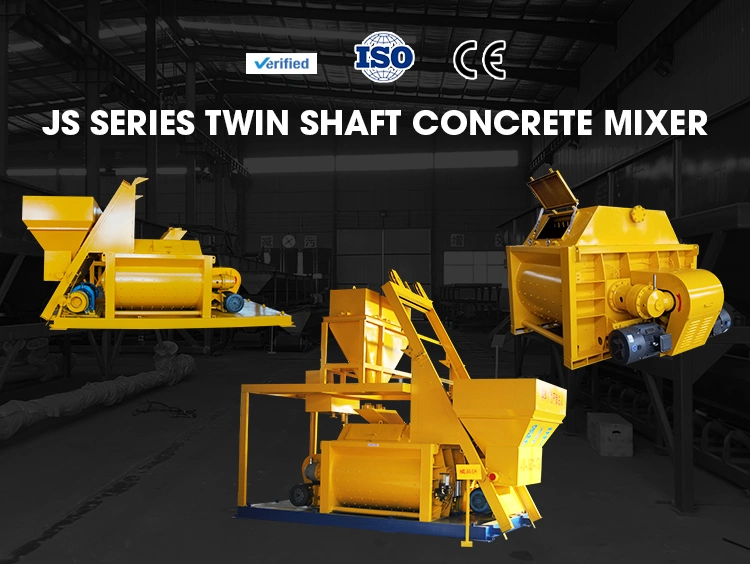 The Applciation of Cement Mixer:
Cement mixer is dual horizontal shaft concrete mixer, which can can work independently, also can be composed the concrete mixing plant with PL1600 and other matched equipment., and it can be Applicable to large, medium and small precast concrete products factory and roads, railways, bridges, water conservancy, civil construction project, and it can mix dry and hard concrete, plastic concrete, light aggregate concrete and all kind of mortar, it is one kind of high efficiency, widely used construction machinery. It owns reasonable design ,and its mechanical accessories used industry standard parts, and its maintenance is much convenient.
Cement mixer Advantages
Barrel: designed adopting Euro-Style, efficient and hardness.
Mixing System: adopting wearable cast alloy steel, long working life, high efficiency
Unloading System: hydraulic control, 3 sticking dots, easy operation
Transmission System: planetary gear, twin shaft homocentric working.
Lubrication System: advanced centralized oil lubrication system,
Sealing System: triple shaft sealing system
Alarm System: ensure safely working
The JS series JS500 cement mixer (cement mixer,Sand Mixer)has such characteristics as firm structure, mixing thoroughly, high efficiency, low energy consumption, low noise and easy operation, and can be used with dump car, truck and concrete mixing truck together and is the ideal machinery in construction sites and large and medium-size cast concrete factories.
Item
JS500
JS750
JS1000
JS1500
JS2000

Discharging Capacity(L)

500

750

1000

1500

2000

Charging Capacity

800

1200

1600

2400

3200

Theoretical Productivity(m3)

25

35

50

75

150

Mixing Motor(kw)

18.5

30

22*2

30*2

37*2

Number of Species of Aggregate

3-4

3-4

3-4

3-4

3-4

Discharging Height

3800

3800

3800

3800

3800

Hopper Lifting Speed
(m/min)

18

18

18

18

18

Overall Dimensions(mm)

4900x4200x2900

5300x4700x3200

8800x8100x3300

9500x8600x4000

10500x9200x4500