25HP 25BBL Brewhouse Wort and Fermentation Tanks Cooling Air Cooled Glycol Chiller
Some people will always ask why glycol is used in your glycol chiller?

The use of an industrial inhibited glycol and water mixture is recommended in most water chiller systems.

Ethylene and Propylene are the two standard types of inhibited glycols commonly used. As we all know if the water temperature goes down to 0ºC, the water will be frozen to be ice.

So the main job of glycol is to prevent freezing of the process fluid and ensure consistent flow at the operating temperature.

A glycol chiller is a special refrigeration system, mostly used to cool a variety of liquids including alcohol, chemical liquid, and other beverages.

Using a glycol chiller allows producers to lower the temperature of the product dramatically within a limited time, depending on the production requirements.

For glycol chillers, Propylene glycol and water mixture play an important role in the application of a glycol chiller, more so the working principle.

For chilling in brewing, glycol chiller plays an important part in the refrigeration.

For brewing industries, There are some processes where decreasing or maintaining temperature is mostly important - like crash cooling beer after fermentation, keeping a steady temperature during fermentation (which generates heat), or cooling the wort after an initial boiling process.

Mgreenbelt offers a variety of glycol chillers from cooling capacity 5Ton to 180Ton and glycol temperature at -5ºC to -35ºC.

These full-range glycol chiller models are most suitable for certain critical industrial applications including cooling and dispensing beer, water, chemical liquid and other beverages where there is limited refrigeration.

Mgreenbelt glycol chillers can be added to an existing remote glycol system for additional cooling capacity.

There are 4 stages of glycol chiller temperature controlling range, 0ºC to -10ºC, -10ºC to-20ºC and -20ºC to -30ºC. If you have special requirements, we can make -35ºC glycol chiller. But remember that the temperature stability is +/-2ºC.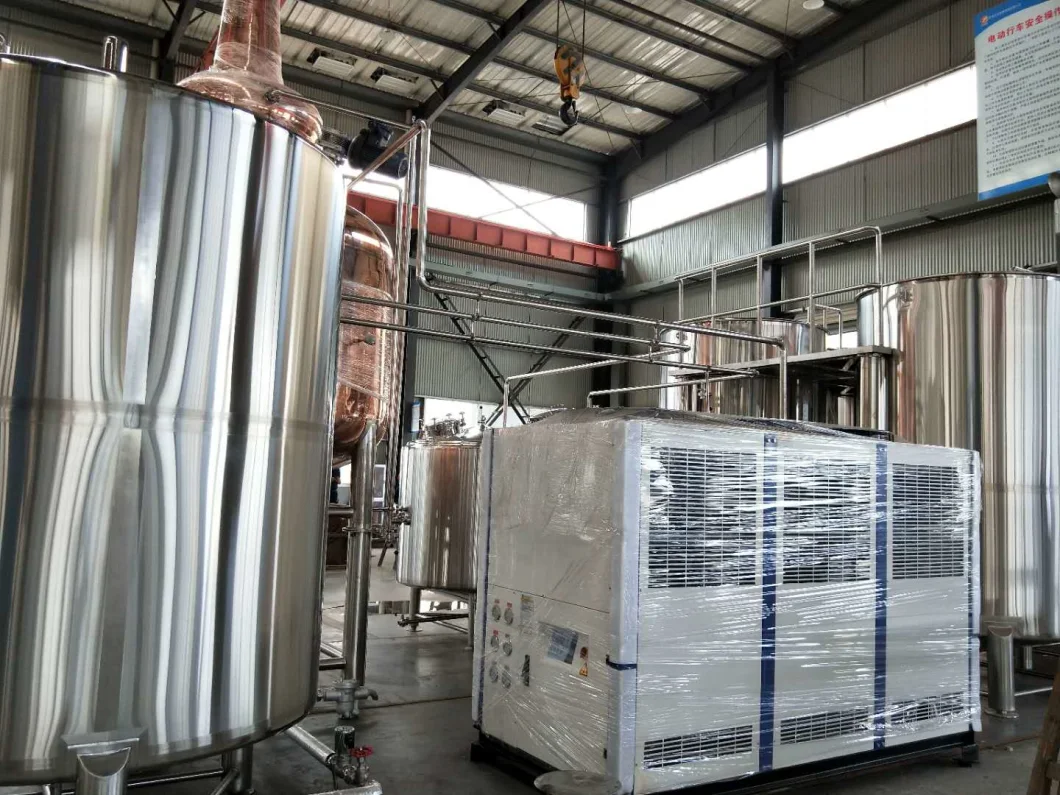 Description of Air cooled glycol chiller
25HP 25BBL Brewhouse Wort and Fermentation Tanks Cooling Air Cooled Glycol Chiller
Our industrial using air cooled chiller adopt famous brand components to ensure the high quality and good performance for your usage. Popular PLC control system which show out working condition of each parts, and touch screen operate,to be controlled easily and powerful. Main four parts below:
1) Compressor: scroll type, brand Copeland, Danfoss, Panasonic
2) Evaporator; SS304 tank with coil or Shell and tube or Plate Heat exchanger
3) Condenser: Finned cooper tube with low noise axial fan
4) Tailor made power supply: 3phase,208-240v,380-415v,440v-460v,50hz or 60hz
Glycol Chiller for Beer
There are four main applications for glycol chillers in breweries: Wort Cooling, Cold Water Storage Tanks, Brite Tanks/Fermenters, and Refrigeration. The size of your brewery chiller will be determined by the sum of each of these heat load requirements. Calculate Knockdown (or Pull Down/Crashing) Load for Wort Cooling.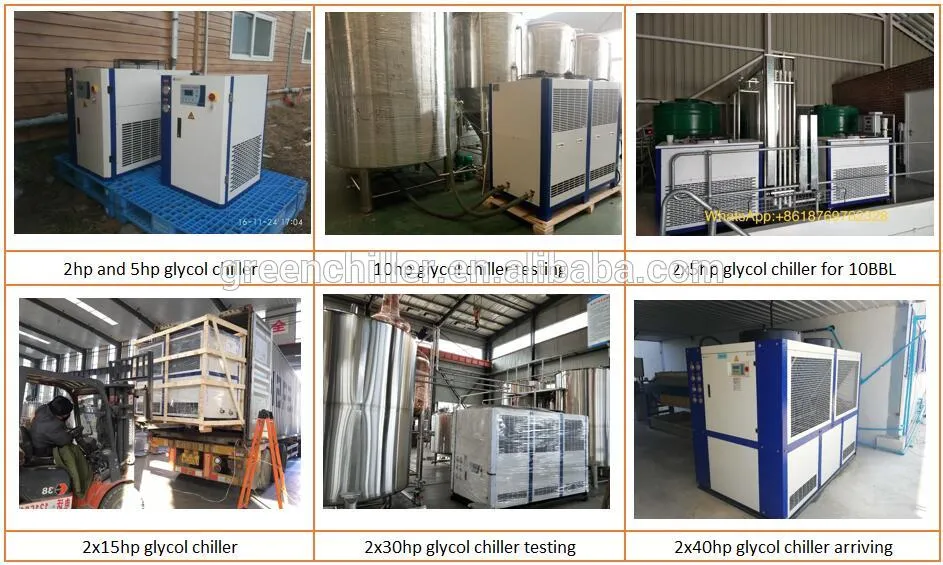 Glycol chiller used for
Breweries. In breweries, the glycol chiller is used for cooling the wort,for controlling the fermentation process and speed.
Wineries. Glycol chillers are widely used in the fermentation process, cold stabilization can be also used for room cooling purpose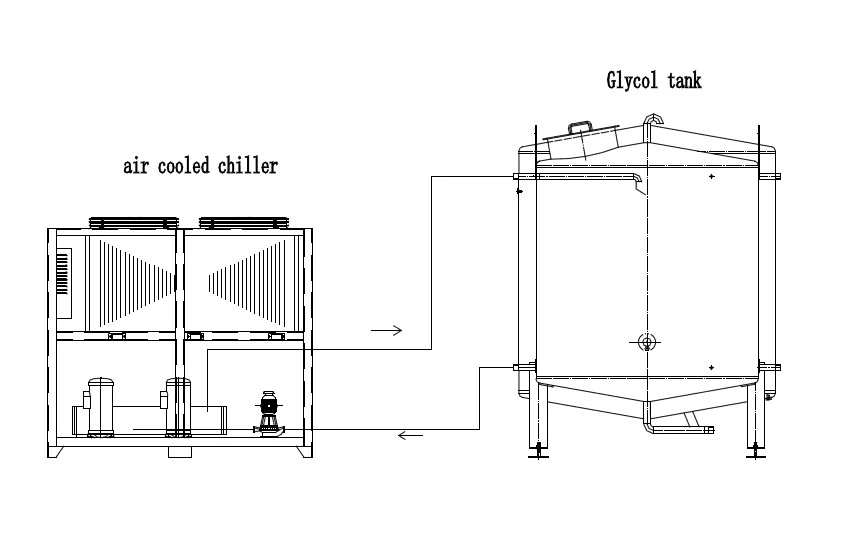 Technical Specification
Air Cooled glycol chiller from 3hp to 50hp,
Supply glycol water cold temperature -15c,-10c,-5C, as production required.
Air Cooled glycol Chiller
Model
MG-15CL
MG-20CL
MG-25CL
MG-30CL
MG-40CL
MG-50CL
15HP
20HP
25HP
30HP
40HP
50HP
Cooling capacity
Kcal/h
24461
32385
37037
48923
64168
107844
kw
28.4
37.6
43
56.8
74.5
94
Input power
kw
15.84
20.51
23.52
31.81
40.2
47.9
Outlet water temperature
-5ºC~30ºC
Power supply
3PHASE - 220V/380V/415V/440V/480V-50HZ/60HZ
Refrigerant
Type
R-22 or R407c or R404a or R410a or R134a
Control type
Thermostatic expansion valve
Compressor
Type
Scroll Type
Power(kw)
13.2
17.5
20.4
26.1
34.8
40.8
Evaporator
Type
Tank with coil or Shell and tube or Brazed plate heat exchanger(BPHE)
Water flow(m³/h)
5.84
7.73
8.85
11.68
15.3
19.3
Fitting pipe(mm)
DN40
DN40
DN40
DN65
DN65
DN80
Condenser
Type
Finned Copper tube +low noise air fans
Air flow(m³/h)
15000
20000
25000
30000
40000
50000
Water pump
Power(kw)
1.5
1.5
1.5
2.2
2.2
4
Lift(m )
20
20
20
20
20
20
Dimension
L(mm)
1800
2000
2000
2500
2350
2000
W(mm)
1000
1000
1000
1200
1460
2000
H(mm)
1600
1700
1700
1800
1900
1750
Net Weight
kg
750
850
900
1150
1350
1600
Air Cooled glycol Chiller ( -5deg C )
Model
MG-3CL
MG-5CL
MG-6CL
MG-8CL
MG-10CL
MG-12CL
3HP
5HP
6HP
8HP
10HP
12HP
Cooling capacity
Kcal/h
4910
7665
8871
11886
16623
18087
kw
5.7
8.9
10.3
13.8
19.3
21
Input power
kw
3.45
5.45
6.31
8.22
10.54
12.33
Outlet water temperature
-5ºC to 30ºC
Power supply
3PHASE-220V/380V/415V/460-50HZ/60HZ
Refrigerant
Type
R22/R407C/R404A
Control type
Thermostatic expansion valve
Compressor
Type
Hermetic scroll type
Power(kw)
2.84
4.36
5.2
7
8.8
10.4
Evaporator
Type
SS Tank with coil or Shell and tube or Brazed plate heat exchanger
Water flow(m³/h)
1.17
1.83
2.12
2.84
3.97
4.32
Fitting pipe(mm)
DN25
DN25
DN32
DN32
DN32
DN32
Condenser
Type
Finned Copper tube +low noise air fans
Air flow(m³/h)
3000
5000
6000
8000
10000
12000
Water pump
Type
Centrifugal water pump
Power(kw)
0.37
0.75
0.75
0.75
0.75
0.75
Lift(m )
20
20
20
20
20
20
Dimension
L(mm)
1200
1300
1300
1400
1560
1560
W(mm)
600
650
650
800
850
850
H(mm)
1100
1200
1200
1400
1500
1500
Net Weight
kg
150
200
230
310
450
500
Air Cooled glycol Chiller Technical Features
25HP 25BBL Brewhouse Wort and Fermentation Tanks Cooling Air Cooled Glycol Chiller
1) Adopted world famous brand compressors and high efficiency condenser and evaporator, ensure high cooling efficiency, low energy consumption, low noise and long service life.
2) Chilled water temperature range as customer required.
3) R22 charged, CFC free type R407C, R410A, R404A, R134A for option, high cooling efficiency.
4) Over sized evaporator and condenser ensure the chiller unit running under 45C high ambient temperature.
5) Microcomputer control system offering accurate temperature stability within ±1ºC.
6) Low noise and big volume air blower, air volume 50000m3/hr for good fresh cooling.
7) Standard equipped Iron pump, stainless steel or high lift pump for option.
8) The innovative evaporator-in-tank configuration ensures a steady water temperature offered, as the evaporator also cools the tank itself, reduces ambient heat gain, and increases the efficiency.
9) Industrial air cooled water chiller adopted aluminum fin/copper tube type condenser, easy for cleaning and installation.
10) Muti- protection devices ensure the chiller unit running safely: -Compressor inner protection,Over current protection,High/low pressure protection,Over temperature protection ,Flow switch,Phase sequence/phase missing protection,Low coolant level protection,Anti freezing protection ,Exhaust overheat protection.
11) Power supply: 1pH 220V/50Hz-----1HP to 2HP ,3pH 380V/415V/460V 50Hz or 60Hz -----3HP to 60HP.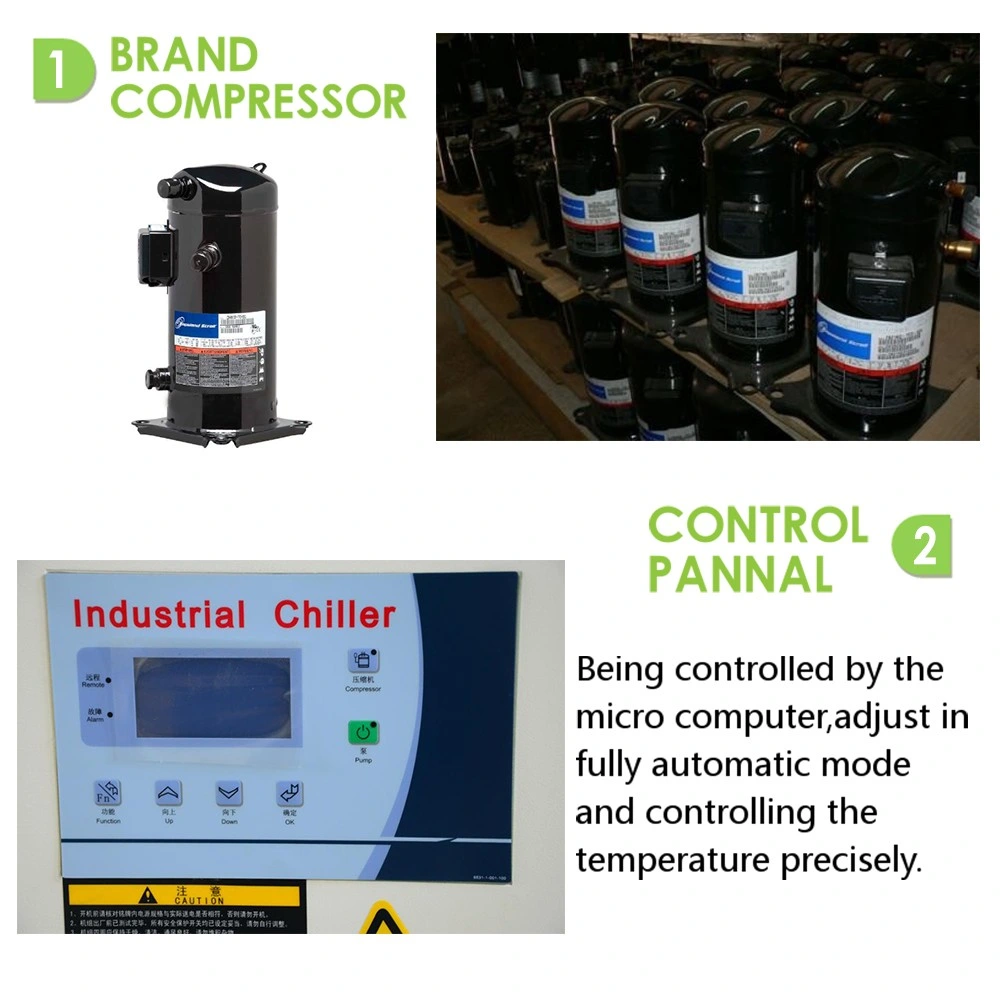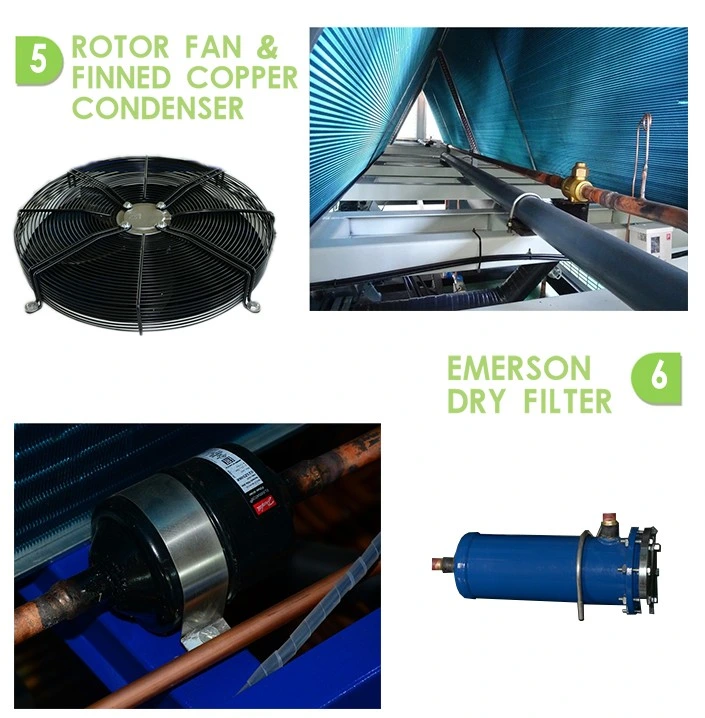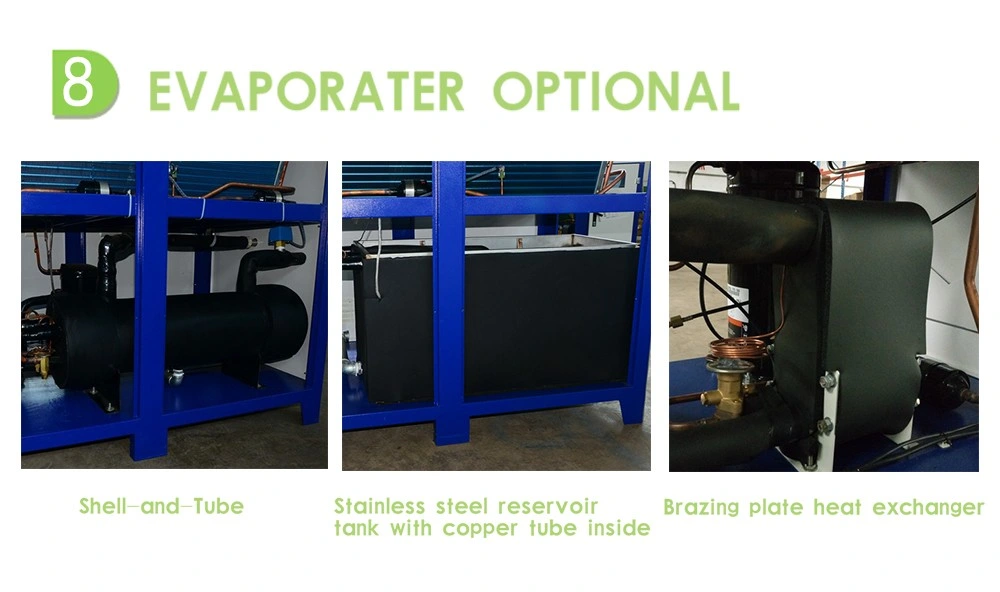 Images of Air Cooled Glycol Chiller
40HP GLYCOL CHILLER, 4X10HP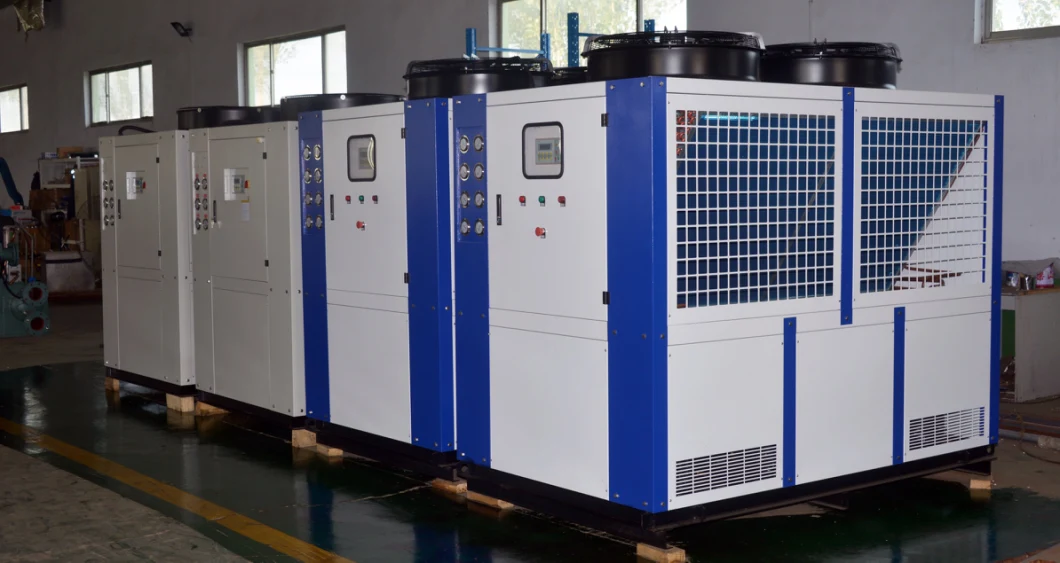 20HP:2X10HP GLYCOL CHILLER, 25HP: 2X12.5HP AIR COOLED GLYCOL CHILLER FOR BREWERY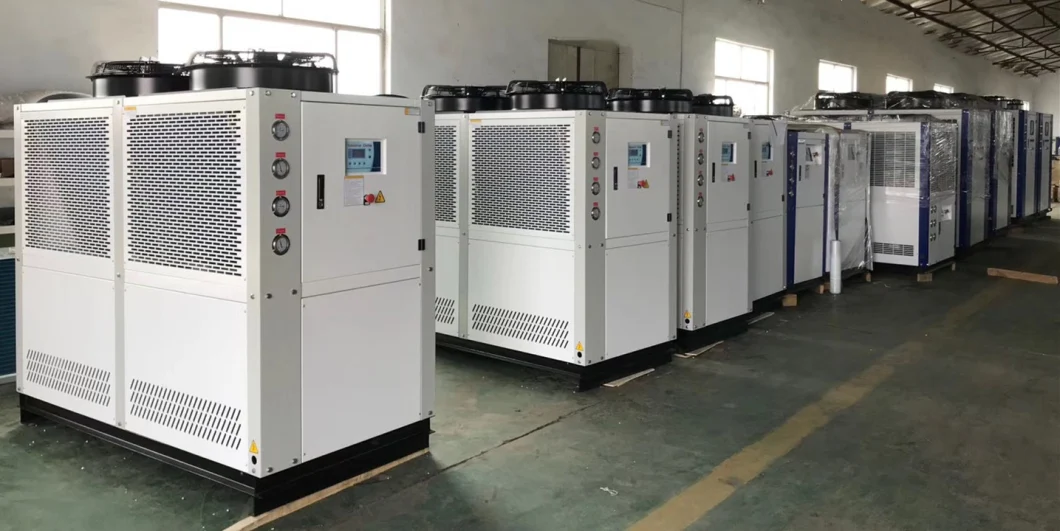 Working Site and Application Industry
MGreenbelt water chillers are apply widely in the Microbreweries, confectionary, bakeries, distilleries, wineries, bottling, corbonation, vegetable, meat and fish processing, etc , which requested by the modernized machinery production, and greatly improved the production efficiency and product quality. MGREENBELT Industrial chiller is a good partner for the modernized industry , which feather as easy to operate with reasonable design, high quality and complete range of specifications.
R410a Refrigerant 20 tons 40HP Air Cooled Glycol Chiller for Brewery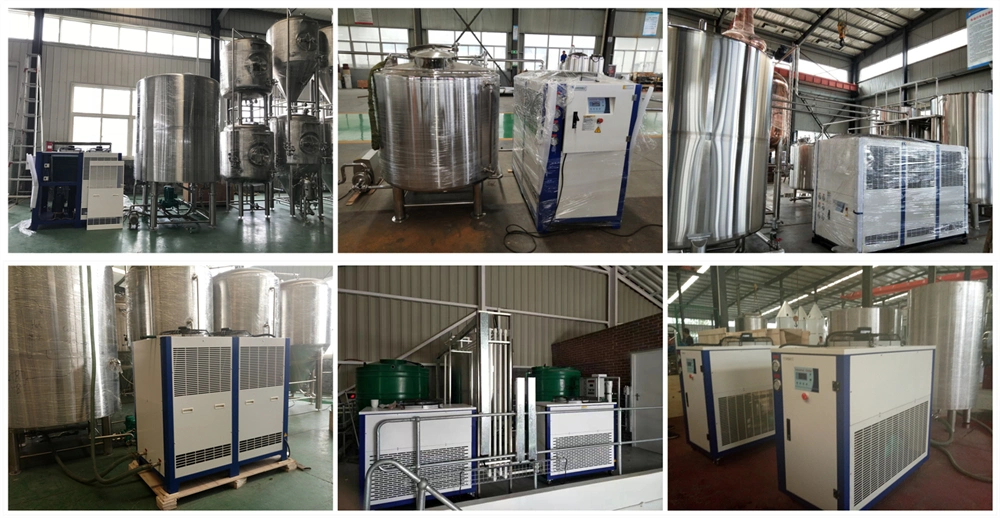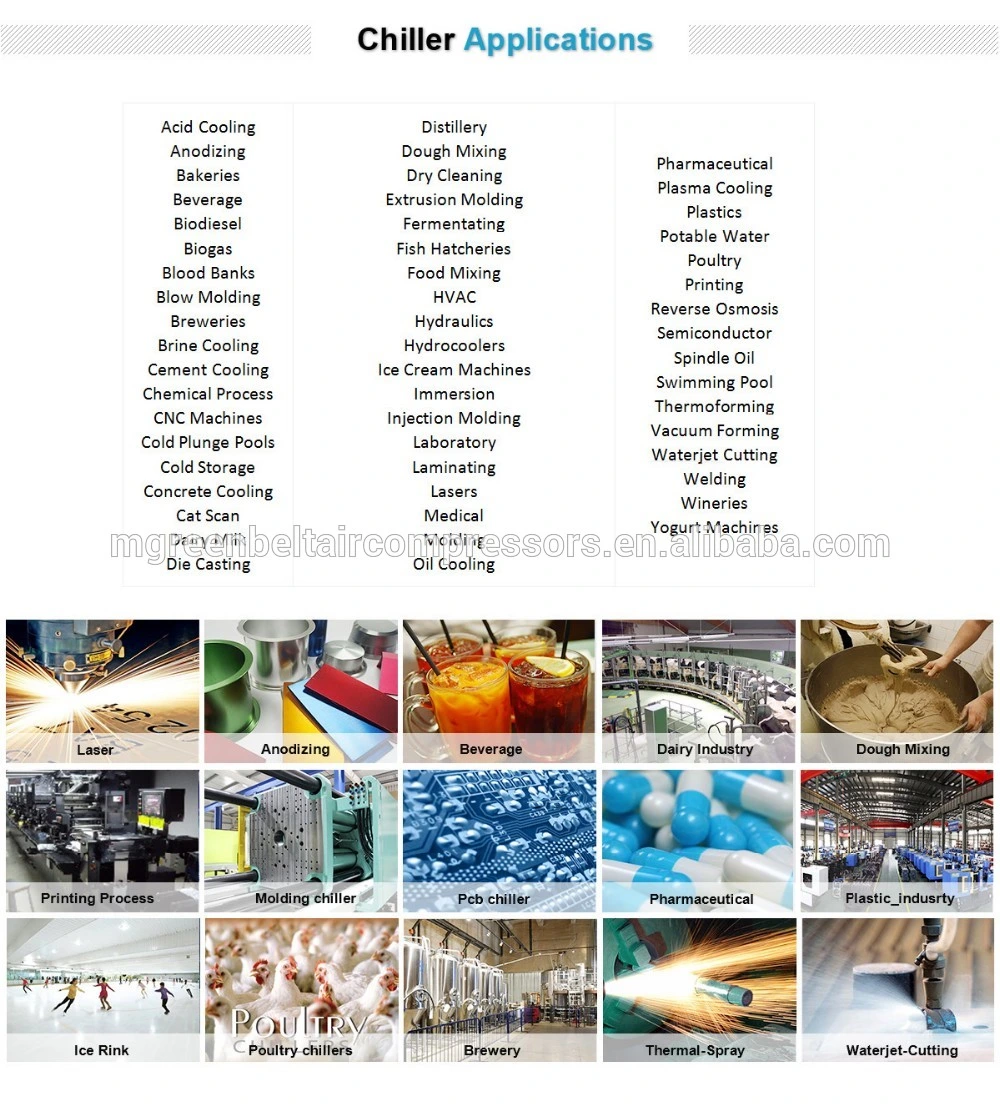 Our Company and Factory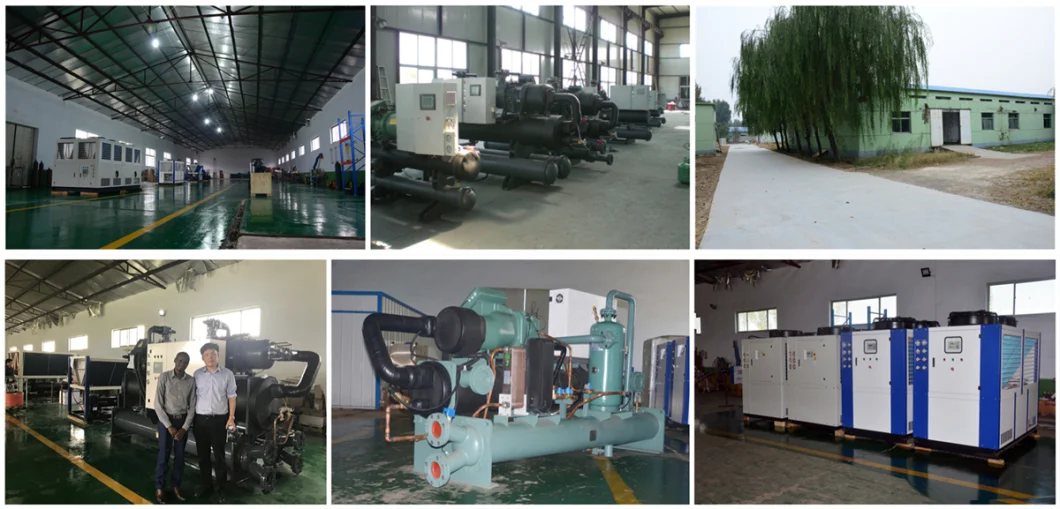 Package:

Packaging :
We consider all different potential situation in the delivery, so we use every prevention measures to avoid any potential inconvenience or trouble
a.Bulk cargo: Standard wooden case which can avoid any clash during the sea or air transportation in case of causing damage to the surface of our products.
b. Container cargo: the equipment will be bound firmly and won't easily swing to the side, or up, or down.
Shipping:
Deliver from Qingdao, Shanghai, Guangzhou, Tianjin, Hangzhou, within 15-35 days after the payment.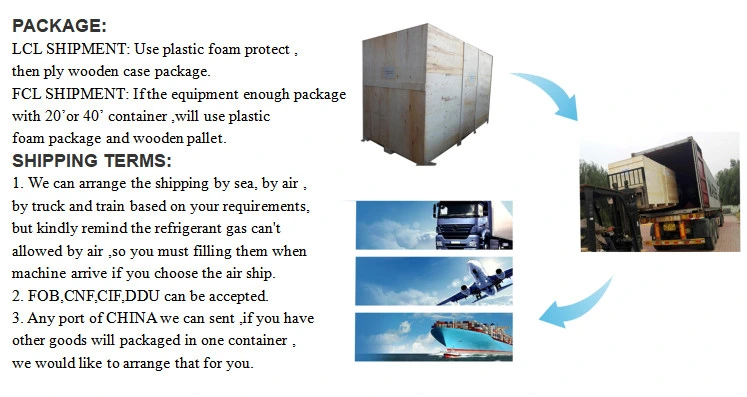 FAQ
1. How about the quality of your product?
· Our products manufactured strictly according to national and international standard.
· We have CE, ISO, UL, SABER, CSA certification.
· We take a test on every product before delivery.
2. What's the order process?
.Inquiry---provide us all clear requirements.
.Quotation---quotation form with all clear specifications.
.Contract confirmation---provide correct contract details.
.Payment terms--- T/T 30% in advanced, balanced before shipment.
.Production---mass production
.Testing: 8hours, to ensure the quality of the machine
.Shipping--- by sea, train, air or courier. Detailed picture of package will be provided.
.Installation
3.What's the warranty?
1 year warrenty for free if confirmed by both side damage in the quality reason.
4. How to get a prompt quotation?
When you send the inquiry to us, pls kindly send it with below technical information.
1)water chiller type: Air cooled or water cooled
2)Cooling capacity: _____ Kcal/hr or _____KW
3)Refrigerant: R22 or others
4) Voltages and Frequency : ______V/PH/HZ
5) Application industry:
5. How can I place an order?
Please send inquiry to us ! Click " Contact Now"
As a professional industrial chiller manufactuer and solution provider , we can supply kinds of chillers to meet your different cooling requirement, if the chillers above is not workable for you, please feel free send needs to us directly.
Contact Person: Libra Zhang