Jinan Cassman Machinery Co., Ltd
Established in 2016, Jinan Cassman Machinery Co., Ltd. is located in the High-tech Zone, Jinan City, Shandong Province, we mainly engaged in beer equipment, whiskey distillery equipment, biological fermentation and environmental protection equipment, etc. Jinan Cassman is a production-oriented enterprise with R & D, Manufacture, Sales and Service capabilities. There are more than 40 production employees, more than 10 middle and senior technical personnel, and 8 after-sales service personnel. With the German TUV Rheinland certification, Cassman can design and produce pressure vessels in accordance with the EU CE-PED standard.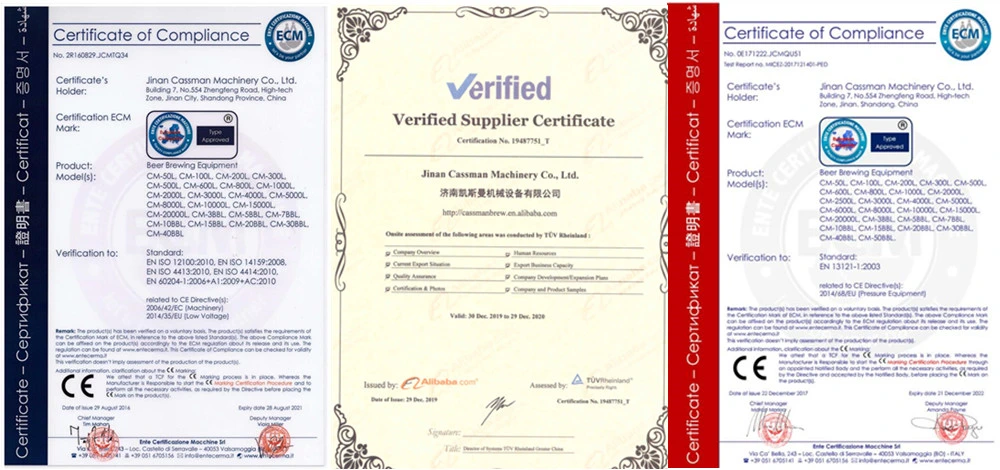 The factory covers an area of nearly 8,000 square meters and it has three processing workshops: container processing, welding and cutting, and assembly and commissioning. It is equipped with laser cutting machines, CNC machines, argon arc welding machines, automatic polishing machines, stainless steel uncoiling & bending machines, pressure vessel detectors and other advanced stainless steel processing and assembly tools.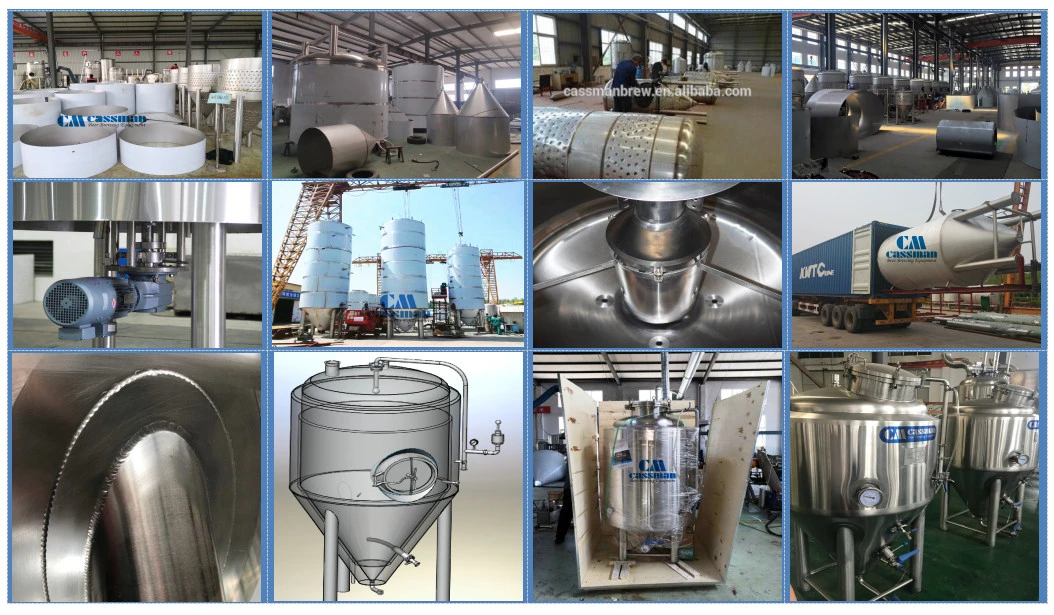 Jinan Cassman is mainly specialized in micro and medium-sized brewery equipment(50L-5T), whiskey and gin equipment, sewage treatment evaporator and other stainless steel equipment. Its products have been widely exported to more than 50 countries and regions such as the European Union, the United States, Russia, Canada, Japan, South Korea, Australia, Southeast Asia, etc. With long-term cooperative and exchange relations with the Japanese Brewers' Association, the American Brewers' Association, the British Buxton Craft Brewery, the American Anchor Craft Brewery, and the leading Chinese whisky companies, Jinan Cassman has won the unanimous affirmation of users from all over the world!
Based on the philosophy of "leading technology, excellent quality, and perfect service", Jinan Cassman will continue to catch up with the world's advanced design level, build the core technology of China's intelligent manufacturing, and seek common development with customers, employees, and suppliers!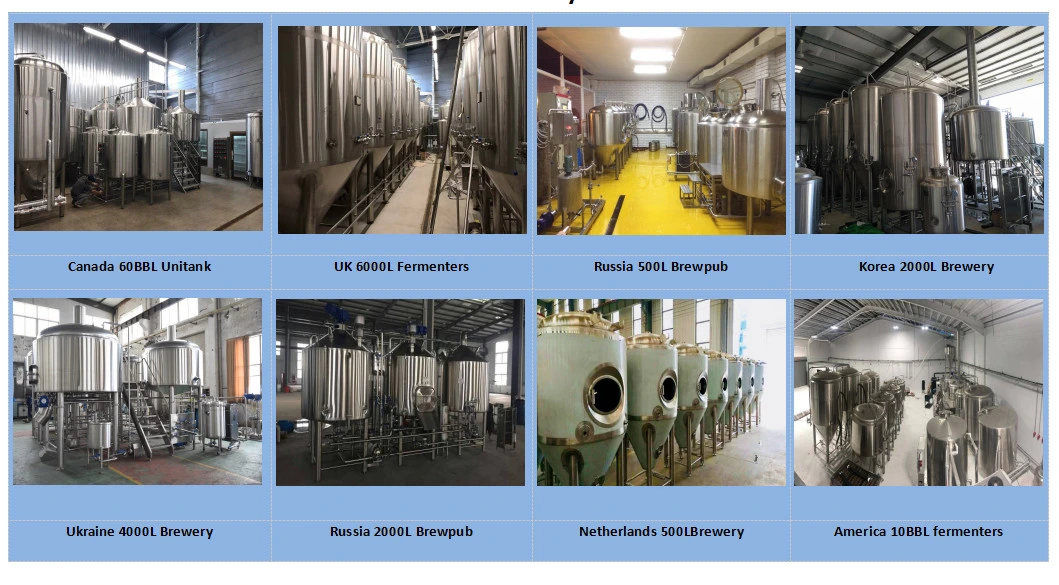 Our Service
Before-Sales Service
1. Layout Design for new build brewery
Our experienced engineer( more than ten years) will provide the detailed layout according to your brewery, if needed, we will fly to your brewery at our cost.

2. Exist Brewery Expansion
Expansion of the brew house, beer tanks, or other parts, we will design and manufacture as per your exist brewery.

3. Effective business communication
Our sales team are young and rich of experience, we are full of passion, all of us have been in this business line for more than 8 years, and they are graduated from UK, Russia etc.

4. Brewing consultant
Cassman also bult a good relation with Shandong university and other institutes who are expert in beer brewing, we are capable to
provide the most advanced brewing technology.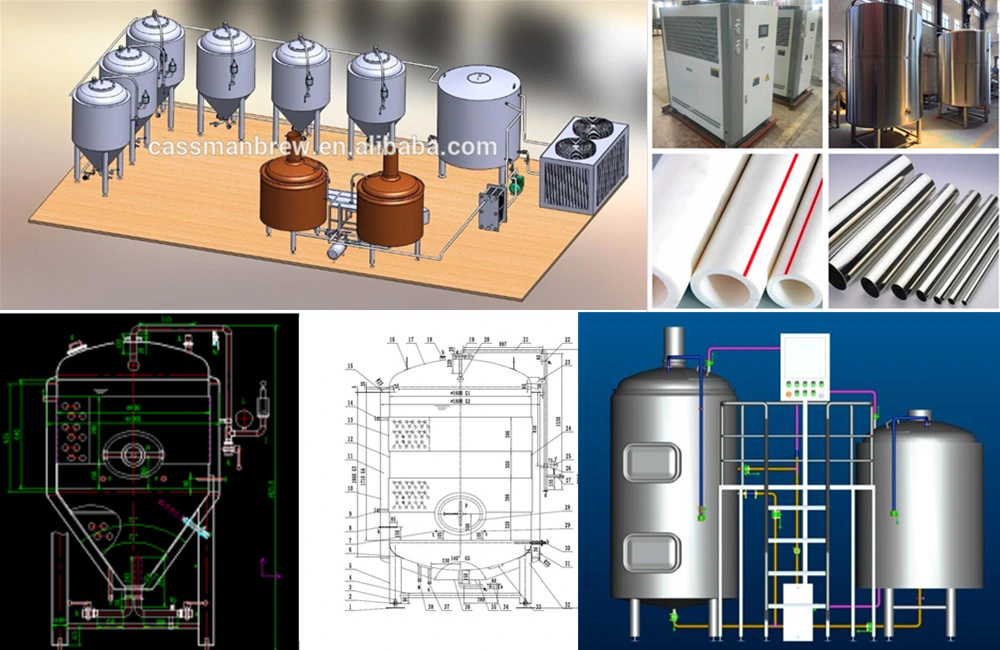 After-Sales Service
1. Guarantee: 2 years
2. Installation: Our engineers team will provide you the perfect installtion and commissioning service. Almost of them have been to 5 countries even more.
3. Our appointed agents are in US, Europe, Russia and other ten countries, they will provide you 24 hours service.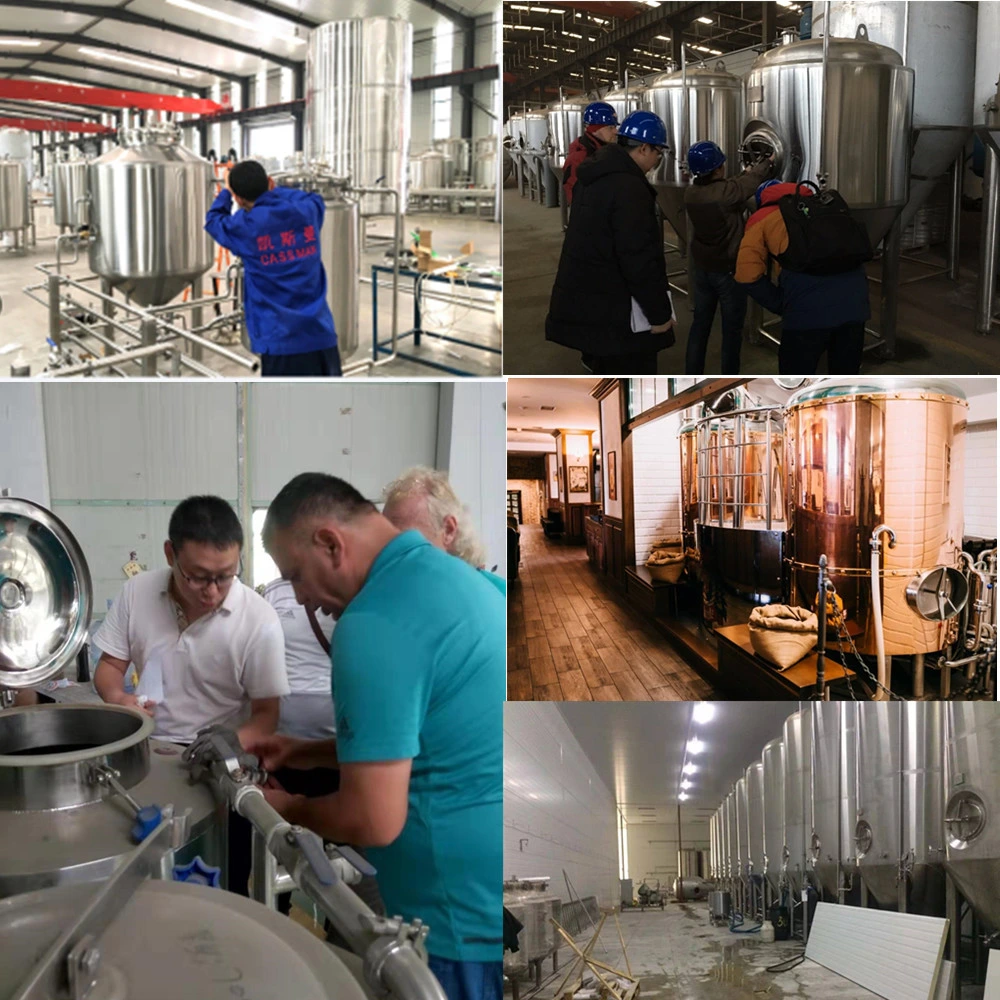 Commercial terms
1- Payment terms: 40% deposit, 60% before delivery.
2- Manufacture time: 40 days after deposit.
3- Warranty: 2 years for the tanks, 6 months for the electrical parts.
4- Layout design: Cassman will provide vessels drawing, brewery layout, brewing flow chart, piping diagram.
5- Installation: Cassman will send 1-2 engineers for the installation, salary is USD 80/day, the buyer will take charge of the air ticket, visa and hotel for the engineer.

Cassman 100L-5000L Kombucha Drink Brewing Kombucha Machine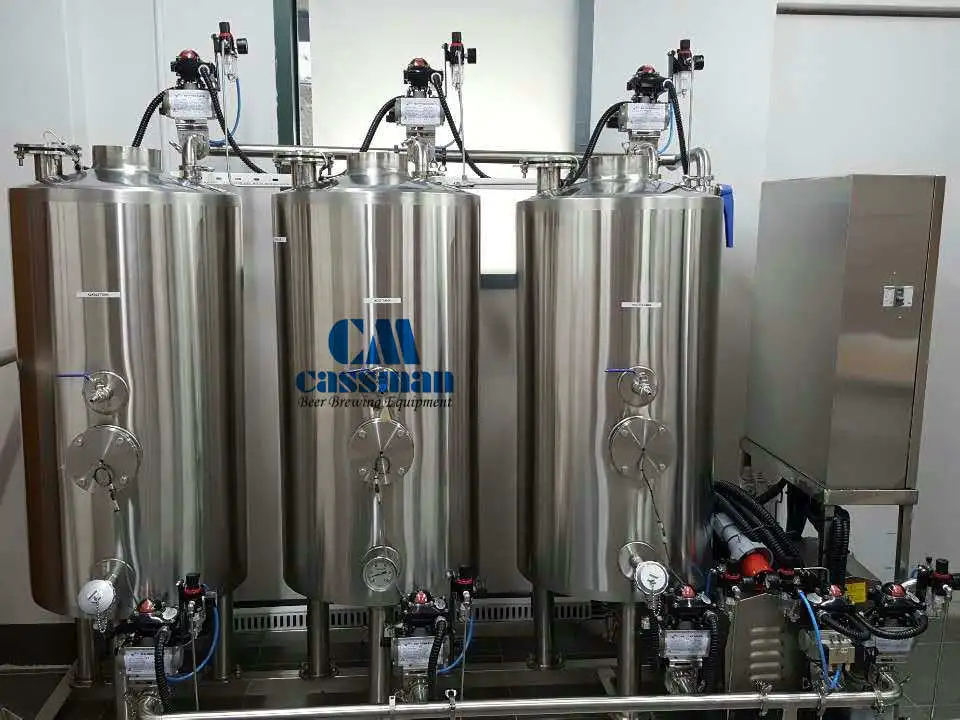 Brew kettle
We can facbricate brewhouse from 50L to 5000L. Heating source can be steam, directly fire, electric.
All the details and size can be customized based on customers demands.

• Working capacity:50L-5000L(+25% Head space)
• Interior Shell:SUS304 Stainless Steel,thickness: 3.0mm;
• Exterior Shell:SUS304 Stainless Steel,thickness: 2.0mm;
• 100% TIG welding with pure argon gas shield
• Interior Finish: Pickling passivation
• Insulation:Polyurethane-thickness:80mm.
• Heating: steam jacket, electric or directly fire
• Lauter tank Grain rake with motor and turbine reducer, Power: 0.75KW,
• The motor with Frequency converter
• LED sight light
• Full size glass top mounted man way
• Lauter tank equip with Side mounted grain outdoor with grain chute, Laser cutting V-wire False Bottom/Sieve plate,with handle, Plate thickness:0.7 mm, form:Strip-shaped holes, Easy clean and detachable sparging spray ring
• 360°coverage CIP spraying ball with 2 pieces
• PT100 temperature sensor
• Adjustable support legs 4 pieces.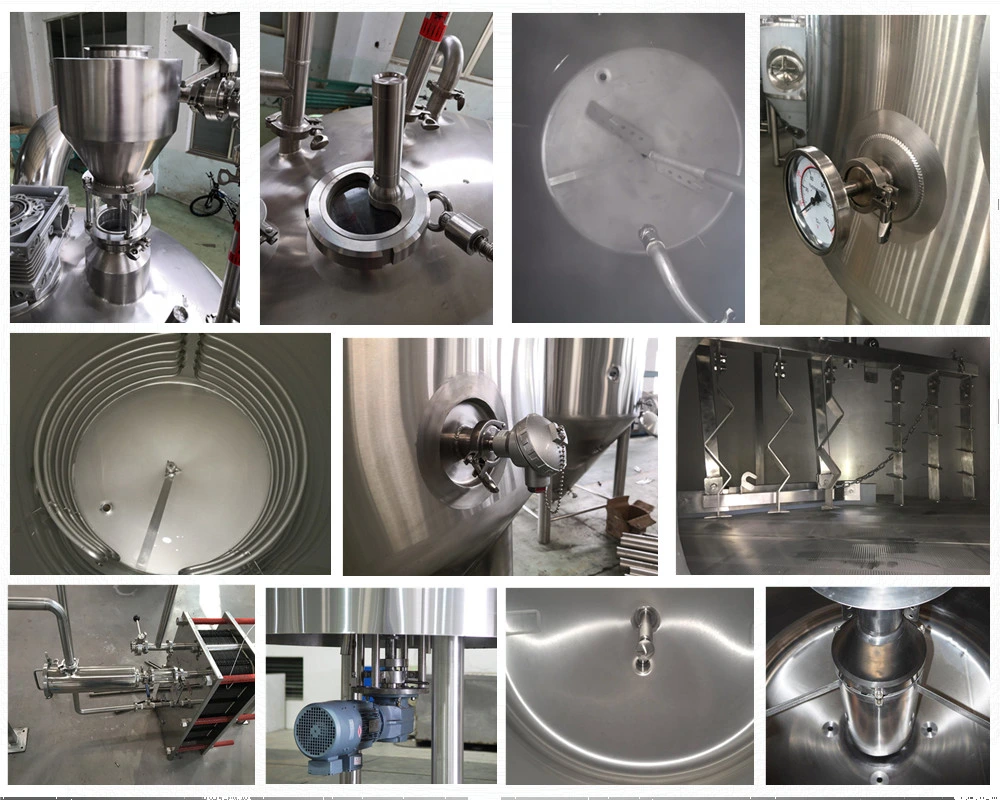 | | | | |
| --- | --- | --- | --- |
| Grist Hydrator | Led Light | Agitotor | Thermometer |
| Electric heating tube | PT100 | Rake Knife | VFD Motor |
| Plate heat Exchanger | Bottom agitator Motor | CIP cleaning ball | Heating device |
Fermentation tanks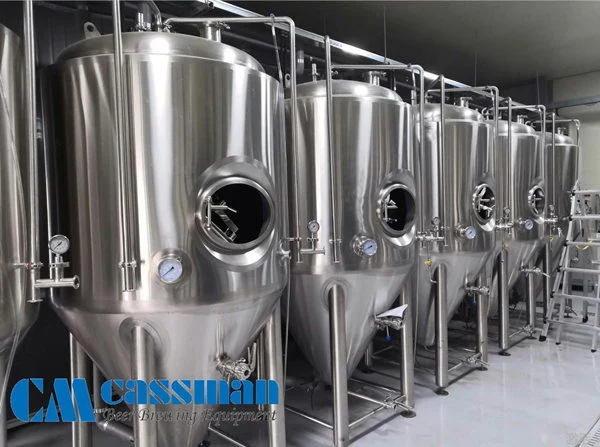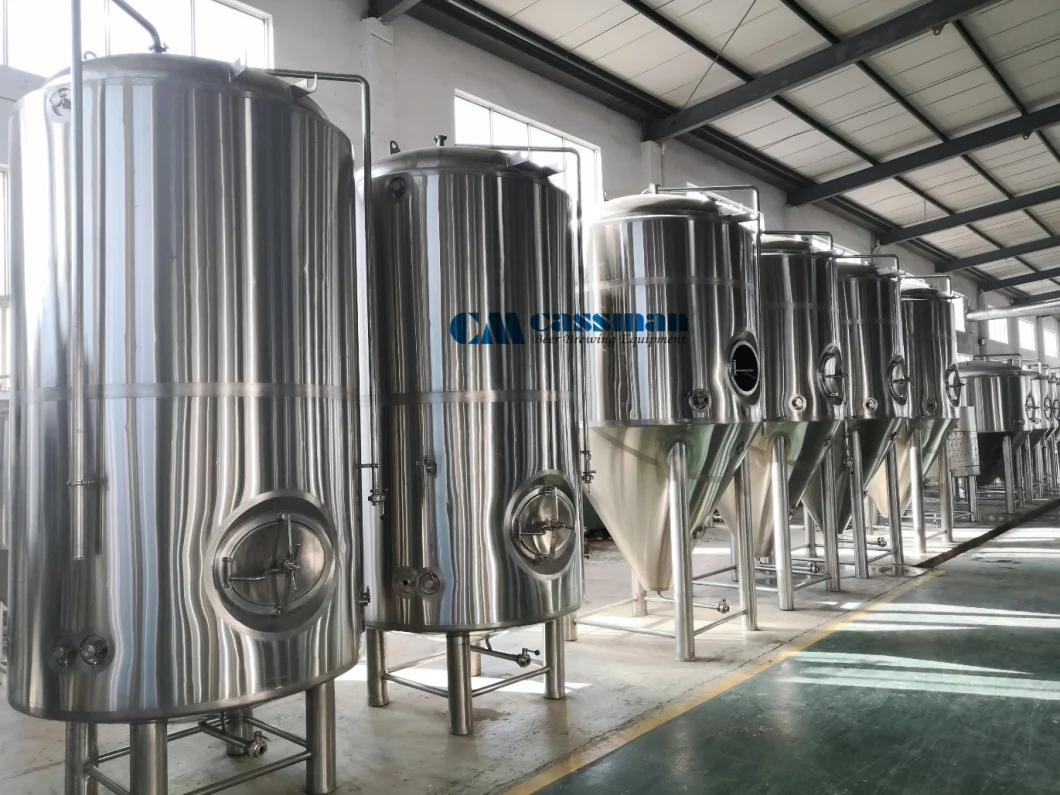 Fermentation tanks
We can facbricate fermentation tank from 50L to 20000L. Cooling down with jacket and glycol water.
All the details and size can be customized based on customers demands.
- Tank capacity: 50L-20000L (+25% Headspace minimum)
- Dished head and 60 degress cone bottom
- Interior shell: SUS 304 full welded, TH=3mm/4mm
- Exterior shell: SUS 304 full welded, TH=2mm
- 100% TIG welding with pure argon gas shield
- Interior finish: Pickling passivation
- Insulation: Polyurethane, TH = 80mm
- Glycol jacket: dimpled plate on cone and side
- Test pressure 3 bar, working pressure 1.5 bar
- safety valve and Dry hopping port with solid end cap on top of tank
- Sanitary side mounted man way
- CIP arm with 360
°
coverage CIP spraying ball
- Full sanitary sampling valve
- Mechanical relief valve 2 bar and Shockproof pressure gauge on CIP
- Tri clamp discharge arm with butterfly valve
- Complete valves, fittings and all parts
- 4 pcs completely SUS304 heavy duty legs with leveling pad and legs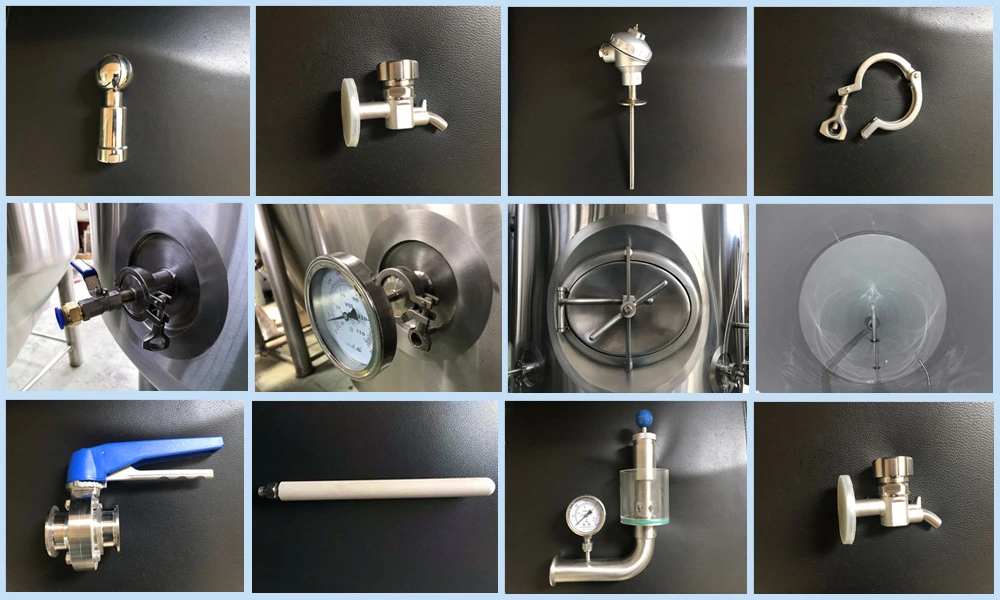 Package and shipping
Cassman 100L-5000L Kombucha Drink Brewing Kombucha Machine will be well packaged to avoid clash during the sea or air transportation in case of causing damage to the surface of our products.
LCL: Standard wooden case
FCL: Packaged with Iron frame and be bound firmly.
All equipment ship from Tsingdao Port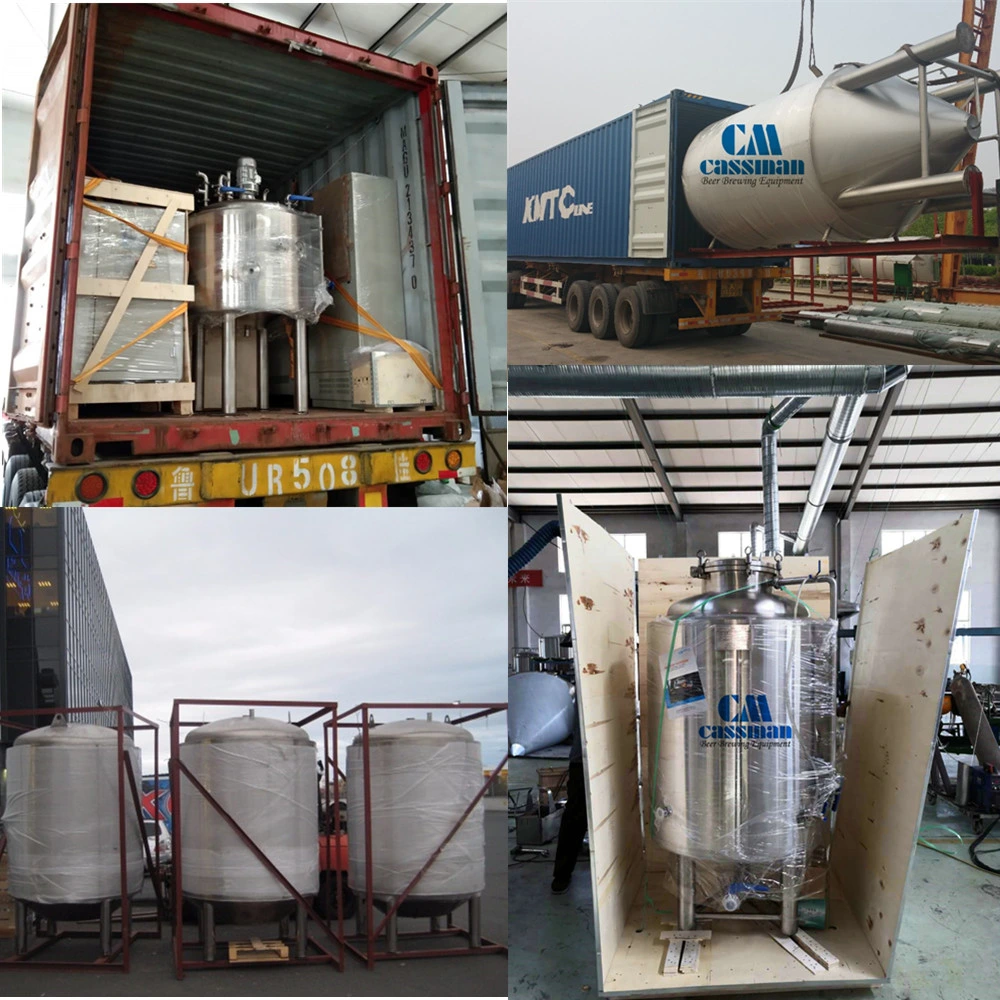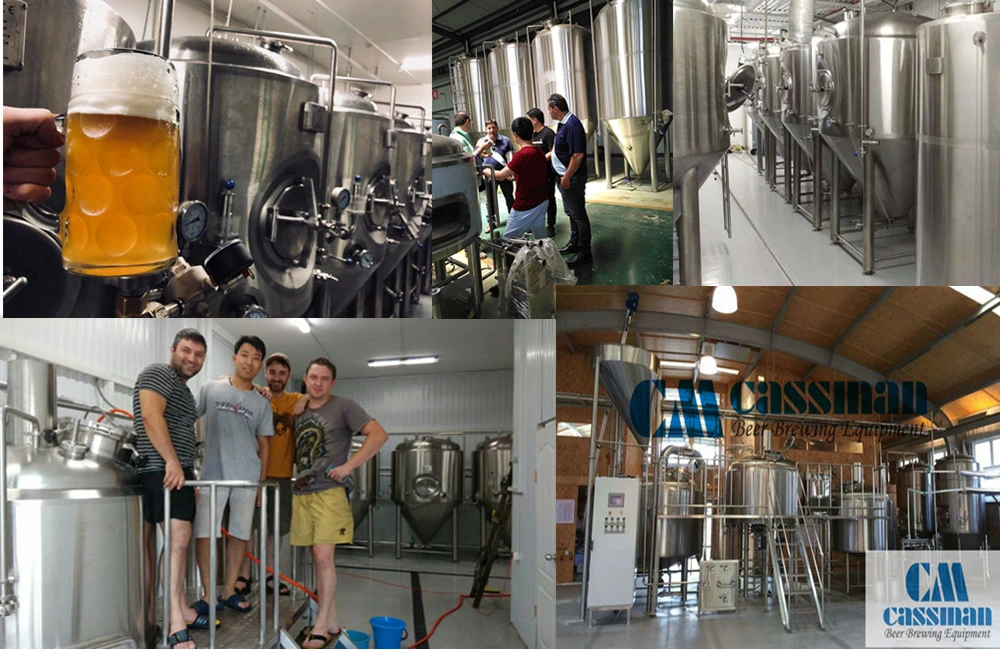 Thanks and Cheers
Jinan Cassman Machinery Co., Ltd