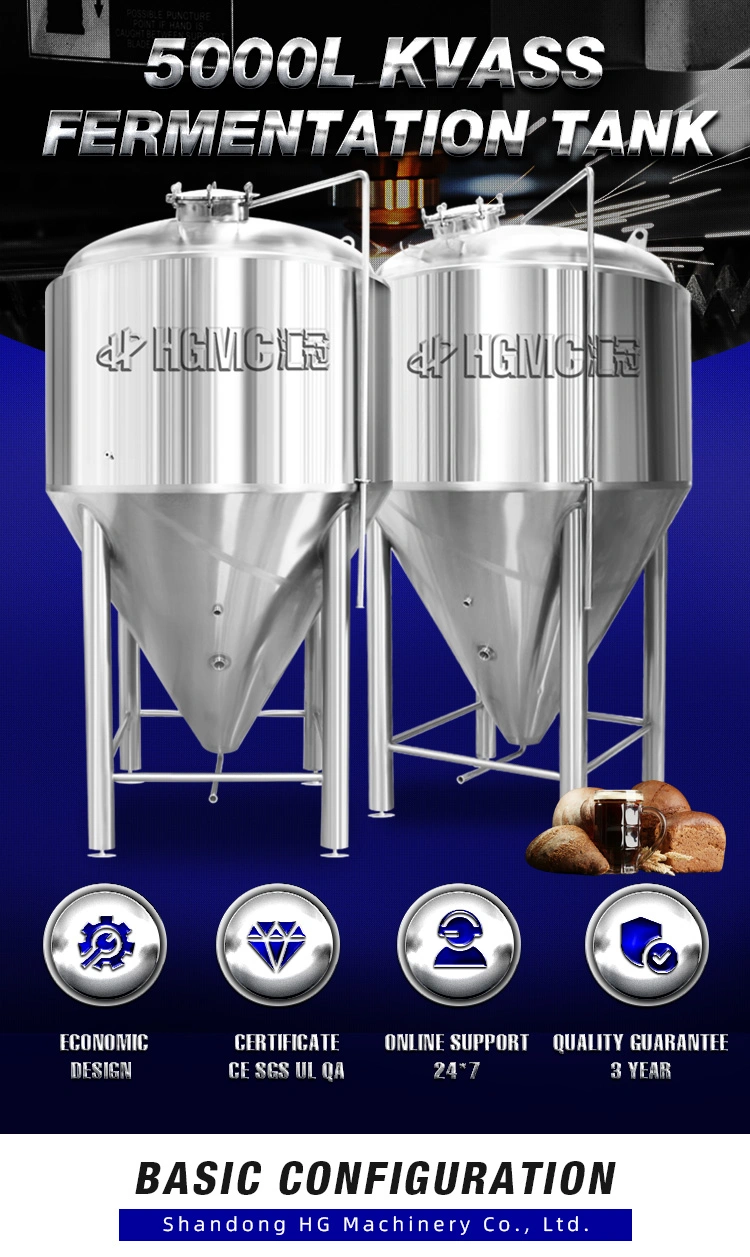 Model

HG-FJ-5000L

Gross capacity

6250L

Useful capacity

5000L

Thickness

Inner (SUS304)thickness: 3.0mm;




External-Jacket(SUS304) thickness: 2.0mm

Material

Stainless steel 304

Cooling way

Dimple jacket plate

Cleaning way

CIP in situ cleaning, with rotary spray cleaning ball

Insulation

Ø159mm*4

T

est pressure




0.3Mpa




Working pressure




0.2Mpa




Heat exchange area

7.2m2

Weight

1100kg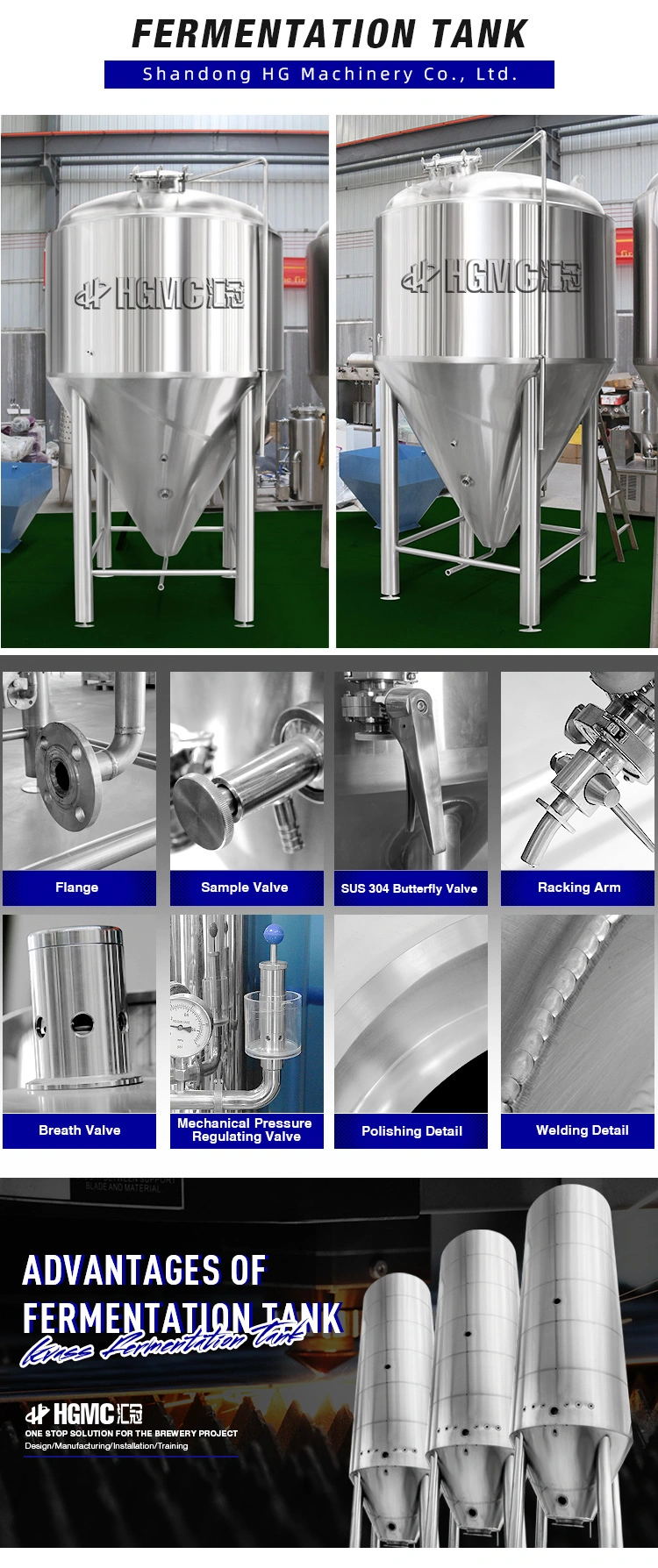 Product advantages :


1. 304 stainless steel plate as a whole, and our stainless steel plate manufacturer is the best in China
2. The cooling efficiency of Maitreya plate jacket is greatly improved.
3. Two stage cooling mode.
4. The insulation layer material is high-grade polyurethane with a thickness of 80mm.
5. Polishing accuracy up to Ra0.4μ m.
6. Strict tank pressure test.
7. Energy conservation and pollution emissions.

We offer a line for the production of kvass beverage. Productivity of the lines can vary from 600 liters to 20 000 liters
per day depending on the planned capacity. Kvass is a traditional Russian sour drink, prepared on the basis of fermentation
from flour and malt (wheat, barley) or dry rye bread. Also it can be prepared from beets, fruits, berries. It is a popular drink,
that has a pleasant aroma and sweet and sour taste. We offer lines for the production of kvass, as well as performs commissioning and maintenance of equipment for the production of kvass.
DESCRIPTION OF THE KVASS BEVERAGE PRODUCTION LINE
List of technological equipment for kvass beverage:
1. Water doser;
2. Brewing machine for kvass wort;
3. Pump for pumping of kvass wort to fermentation tank;
4. Fermantation tank with agitator;
5. Filtration of kvass;


6. Cooler;
7. Tank-thermos for cooling of kvass;
8. Bottling of kvass.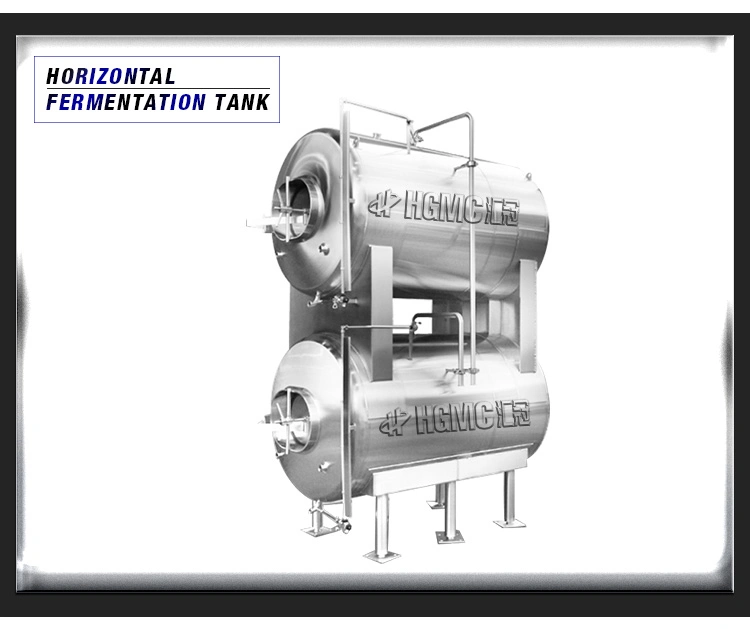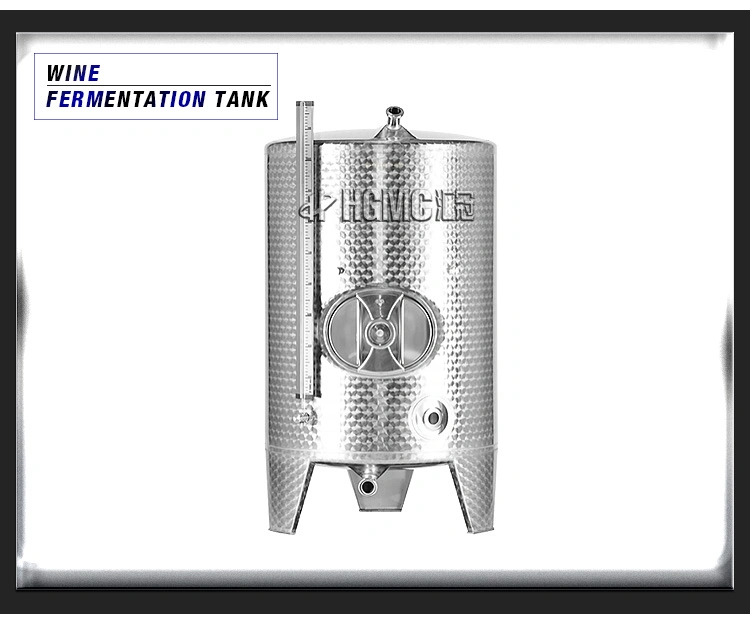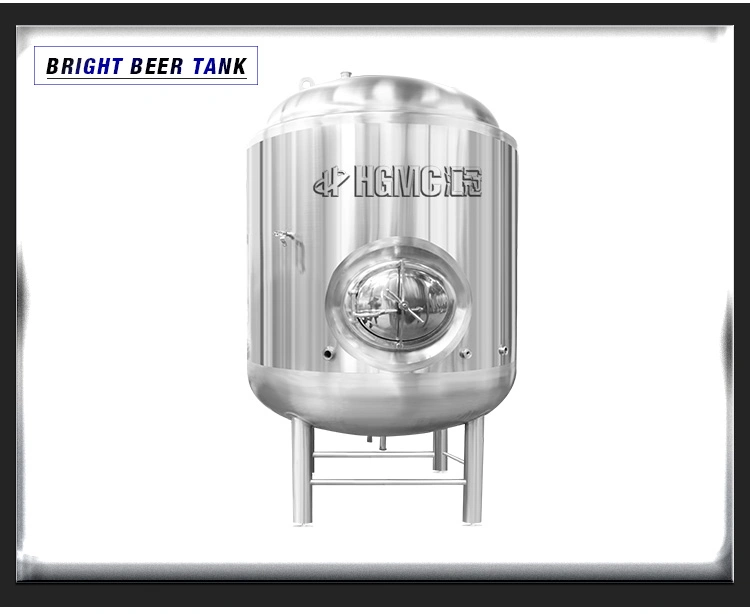 Stage of production of kvass beverage Main stages of kvass production includes preparation of kvass wort, fermentation of kvass
wort and blending of kvass. Raw materials for the production of bread kvass are rye flour, rye malt, barley malt, sugar, and other
products. Consider in detail each stage.
1. Preparation of kvass wort
Into the brewing machine is fed required amount of water, rye flour and fermented malt. After the process of thorough mixing of ingredients and infusion of leavened wort is performed.
2. Fermentation of kvass wort




After infusion of the leavened wort, wort is pumped through the filter into the fermentation tank. The amount of required wort is determined by the recipe. Also, necessary ingredients, yeast, sugar and tempered water are added to the tank. Once ingredients are loaded, mixing process is activated by the agitator. Next comes the process of fermentation of kvass for 8-24 hours. During the fermentation process, excess carbon dioxide is automatically removed from the tank through the tongue-machine, set to a predetermined pressure and allows you to control the fermentation.
3. At the end of fermentation time, kvass, by a centrifugal pump through a fine filter and a demountable plate of heat exchanger of the cooling system is pumped into the storage tank-thermos for further cooling.
4. Cooling system is an autonomous unit of an ice water generator with a coolant of kvass/water in heat exchanger. The system is designed to cool kvass with an initial temperature of +30°C to a temperature of +1+3°C with a capacity of 1500 l/h, with continuous cooling for 6 hours. During the next 6 hours, system accumulates ice and ice water in the tank for the next 6-hour cooling cycle of kvass.
5. Storage tank-thermos through a drain fitting with shut-off valve attached to tubing Ø20mm of equipment for filling of PET bottles KFM2 (optional). Loading of components through hatches of fermentation tanks, as well as maintenance of the upper part of all tanks is carried out from the service site. Start-up and signal equipment of all electric drives (bewing machine, tank agitators, pumps) is located in the control cabinet.
| | | |
| --- | --- | --- |
| № | Description | Quantity, pcs. |
| 1 | Brewing machine with tempering shirt for preparation of kvass wort | 1 |
| 2 | Electronic doser-mixer of water | 1 |
| 3 | Stainless steel filter with holes 3 mm for pipe Ø 50 mm for rough filtering of kvass wort | 1 |
| 4 | Pump (centrifugial type) in protective cover, for piping of wort to fermentation tank | 1 |
| 5 | Fermentation tank from stainless steel, vertical type, V= 3000 liters | 2 |
| 6 | Filter of mesh type with cells 0,5 mm on pipe Ø 35 mm for fine filtering of kvass | 1 |
| 7 | Centrifugial pump from stainless steel for supply of kvass to feeding tank | 1 |
| 8 | Block type ice water generator - for cooling system of kvass after fermentation, from +30°С to +1+3°С with capacity 1500 l/hour | 1 |
| 9 | Tank-thermos from stainless steel for cooled kvass, vertical type, Ø 1700 * 2400 (h) mm | 1 |
| 10 | Maintenance platform for fermentation tank | 1 |
| 11 | Control box with start protection and signal apparatus | 1 |
| | | |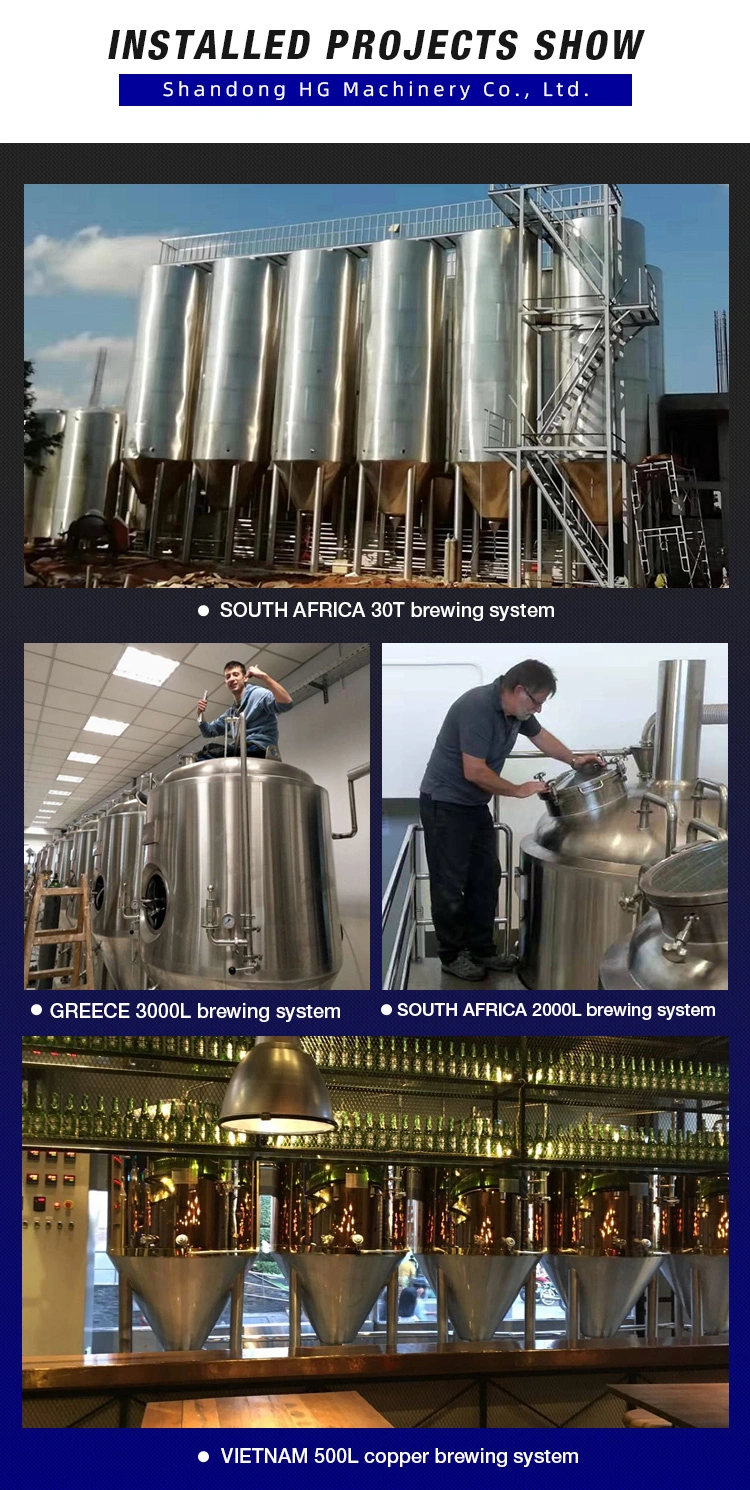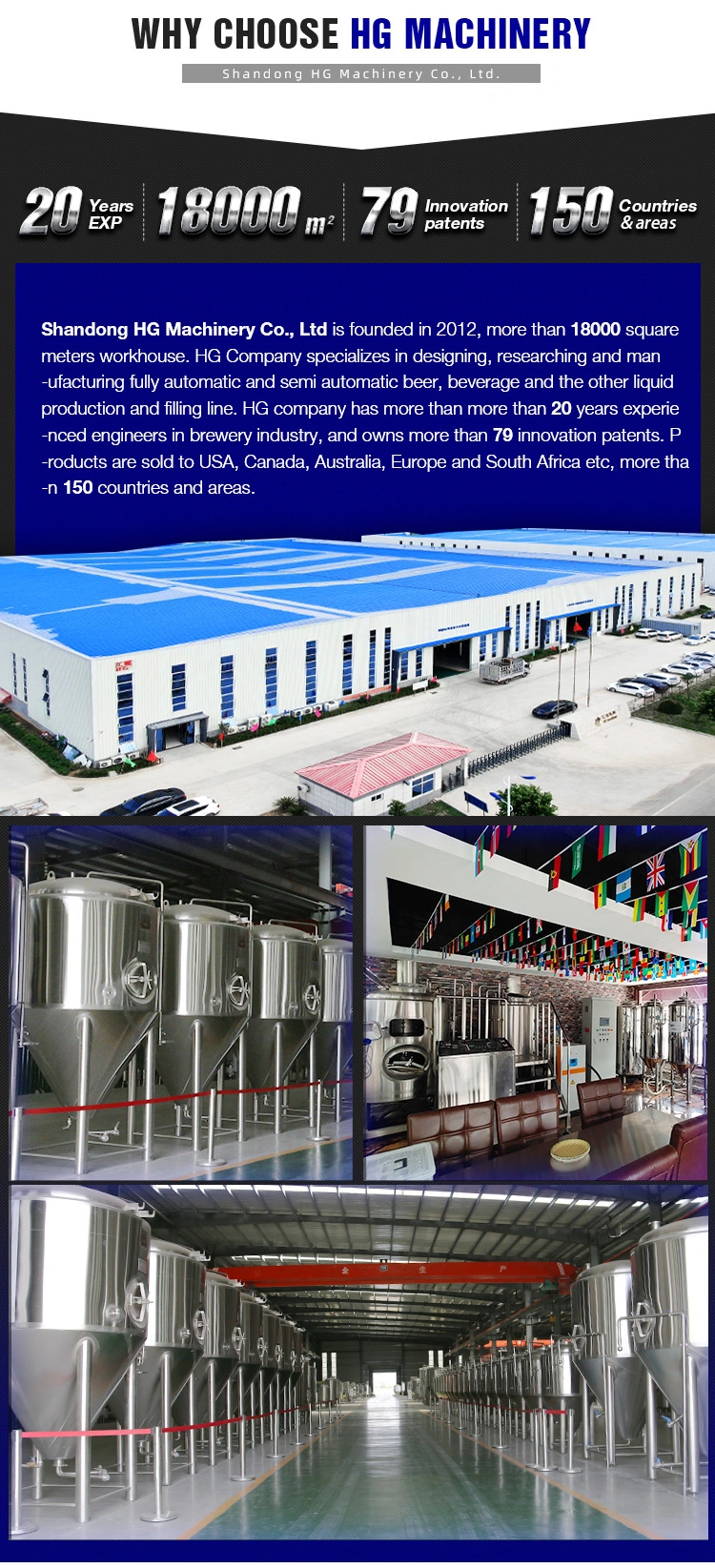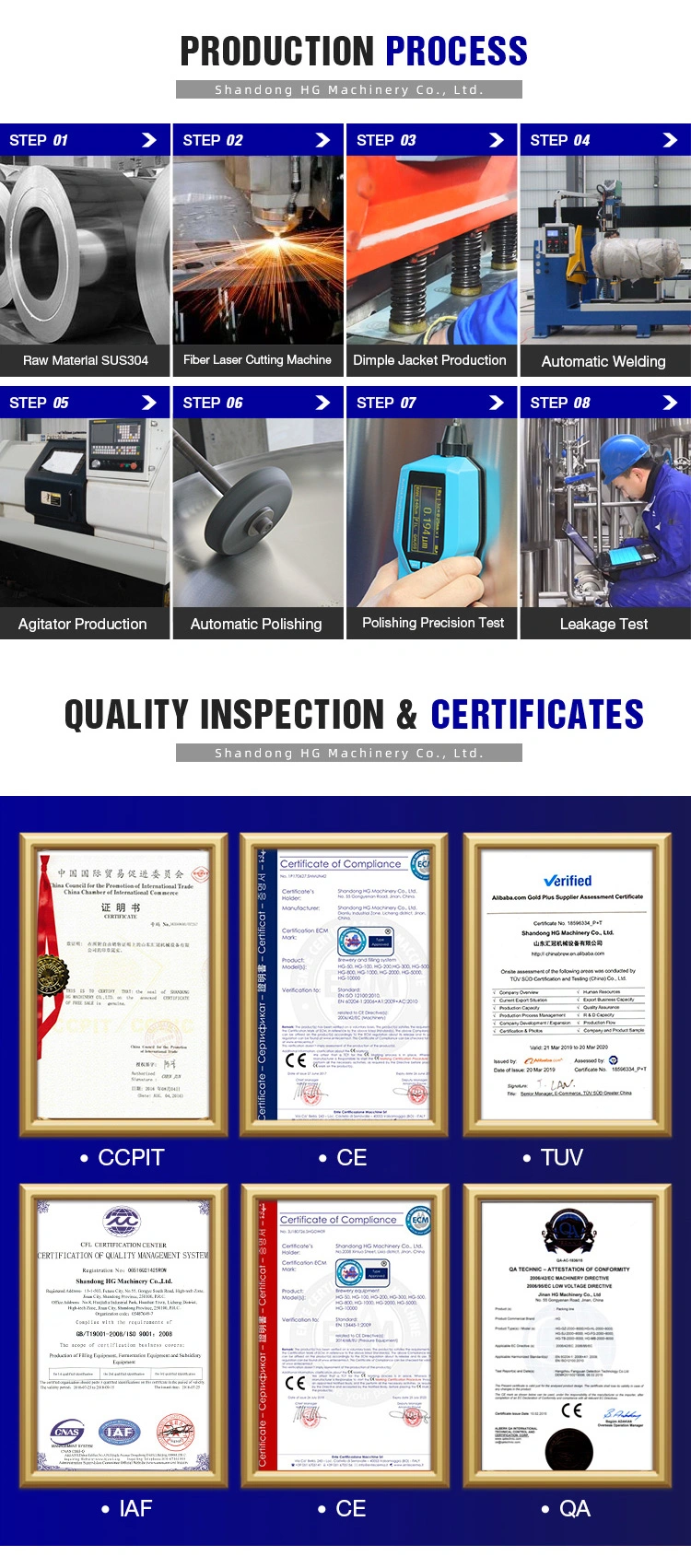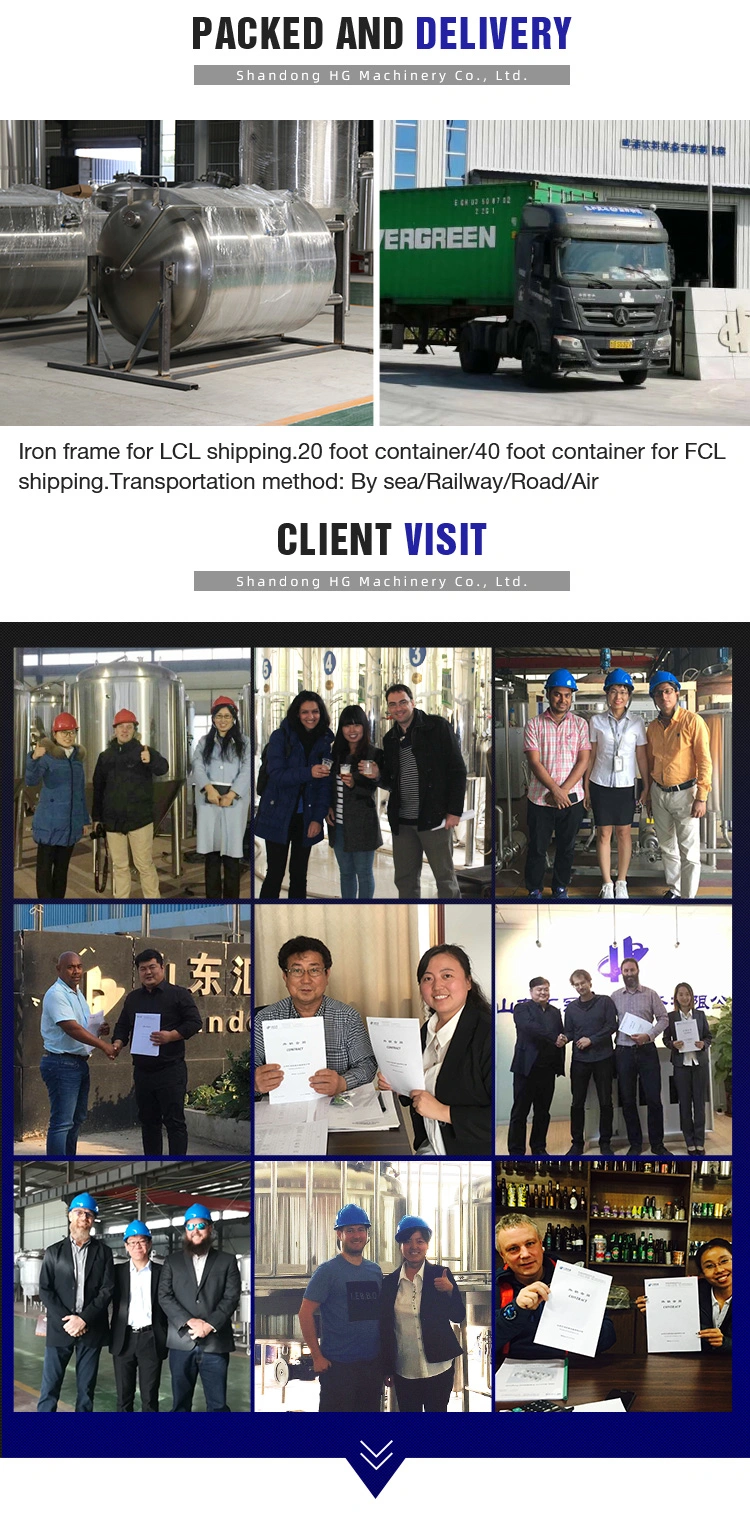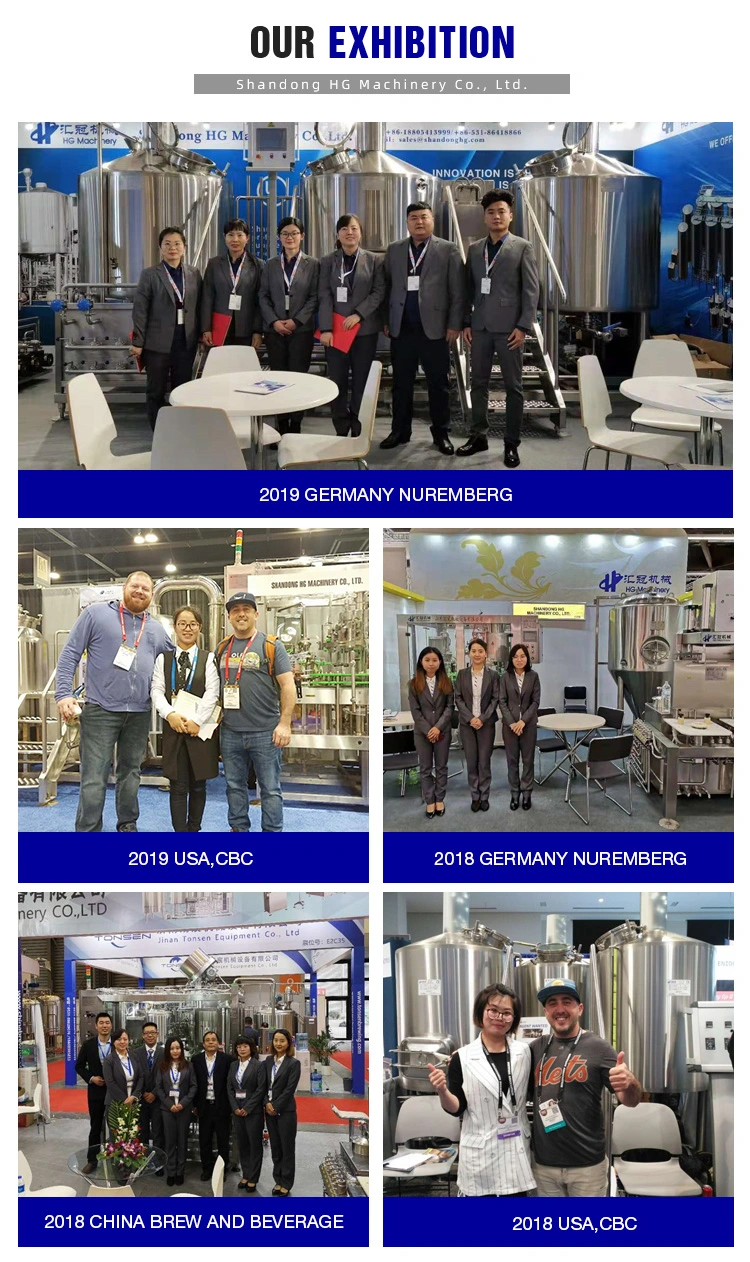 Our service
1.Pre-service:
-Layout:Sent us your building floor plan, or the sketch, or tell us the size (length, width, height), we will offer you an equipment footprint according to your requirement.
-Technical Drawings : We will offer Technical Drawings of each tank based on the equipment layout .
-3D effective sketch: We will 3D effective sketch to make sure ensure you have a more intuitive experience
2.After service
We guarantee the quality of the electrical elements within 1year and tanks body within 1 years. If the electrical elements go wrong without artificial factors within one year, we will freely provide them or maintain them for you.
After warranty, if you need to change parts, we will kindly provide you with the best price or maintain it in your site. Whenever you have technical question in using it, we will freely do our best to support.
We can also dispatch our engineer to your brewery to install and adjust the machines for you. He can also train your staff to use the equipment.
FAQ

1.Q:Does your company have foreign installation experience?
A: Yes, our company has installation experience in USA, Canada, Europe, Australia, Malaysia, Myanmar, South Africa etc.
2.Q: Do you have a professional engineer or after-sales team in our country?
A: Yes, our equipment is sold to 150 countries and areas and we have our local after-sales service personnel in Europe, America and Asia.
3.Q: How long is the delivery time?
A: The delivery time of beer equipment is 30-50 working days, the delivery time of filling machine is 45-50 working days.
4.Q:What payment methods are supported?
A:T/T, L/C, Credit Card, VISA, Apple device, Western Union.
5. Q: How long the warranty will be?
A: 3 years warranty for the whole tank and the main equipment, 1 year for the accessories and auxiliaries. 1 Year warranty for filling machine.
6. Q:How about the installation and training?
A:We can supply the installation and training. There are two options. The first option: We could appoint our engineer to your company to debug and repair, as for the cost of this trip such as ticket, visa, accommodation and labor cost shall be on your side. The second option: On-line service will be provided. If still under guarantee period, the necessary accessories and parts will be provided free, the buyer afford the transportation cost.
7.Q: Can I be your company's sales agent?
A: Yes, it's our pleasure. We very much welcome you to join us. Please contact us to discuss specific details.