50L 100L Stainless Steel Beer Conical Fermenter e Homebrew Fermenter Tank
Fermentation & Storage
The fermenters and bright beer tanks fabricated by ZYB following the more reasonable craft beer brewing request and clients special request, we make the layout well combined with the space. Our cellar tanks are fabricated by stainless steel 304 or 304L, which is the normal standard. All fittings using the top level Chinese supplier or the others fabricated in Germany, the stable standard on quality is priority. Besides we have more strict inspection on the whole tanks production. Each welding joint, polishing and pressure testing etc following the fixed procedure and guarantee we have 100% qualified product. Each tank with right serial number for accurate following up and service when clients are using these tanks.
All tanks are with good standard or are customized tanks are following special brewing recipe requirement, we have enough head space for fermentation. Tanks are installed with dimple plate cooling jacket, with right calculation on cooling speed, which achieve more accurate cooling temp control, all temp data within reasonable scope. The insider surface is qualified for beer production without dead contamination angle.
Our production on tanks is well following the regulation on pressure vessel regulation, meanwhile we fit the requirement of PED, ASME, AS1210 etc. We can product the tanks and system as the standard and certificate request from different countries and area.
Features
Tank size: 1/2HL-300HL or 1/2BBL-300BBL
Bottom cone angle: 60-90 degree
Reasonable head space for better fermentation process
Perfect inside surface treatment, no dead angle
Dimple plate cooling jacket, reasonable cooling area for accurate temp control
Fixed stainless steel piping, lower the labor and cost on maintaining
Extra amount following the exact tanks size and quantity, be more cost-effective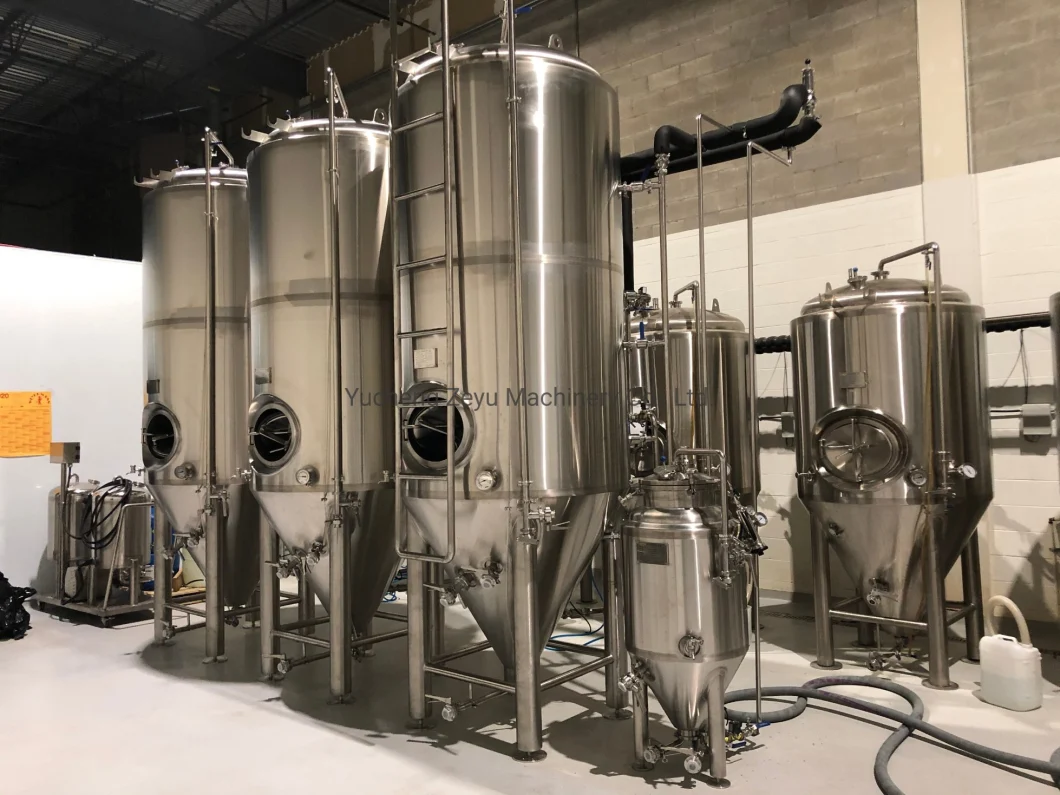 Configuration:
Effective Capacity

1/2HL-300HL or 1/2BBL-300BBL

Tank working pressure

2bar

Jacket working pressure

1bar

Cooling Way

Dimple plate cooling jacket

Insulation

polyurethane

Insulation thickness

80mm-100mm, side and bottom insulated

Cooling stage

Cylinder and cone

Roughness

0.4um

Exterior thickness

2mm

Material

SUS 304 S/S

Mechanical pressure valve mounted with CIP arm

Side manway or Top manway

Thermo-sensor

Glycol line includes: solenoid valve, ball valve, one way valve, piping etc.

Exterior: stain removed, and brightened on regular margin

Interior surface: Polished, and welding joint acid cleaned,


Front side of assembled fermenters on site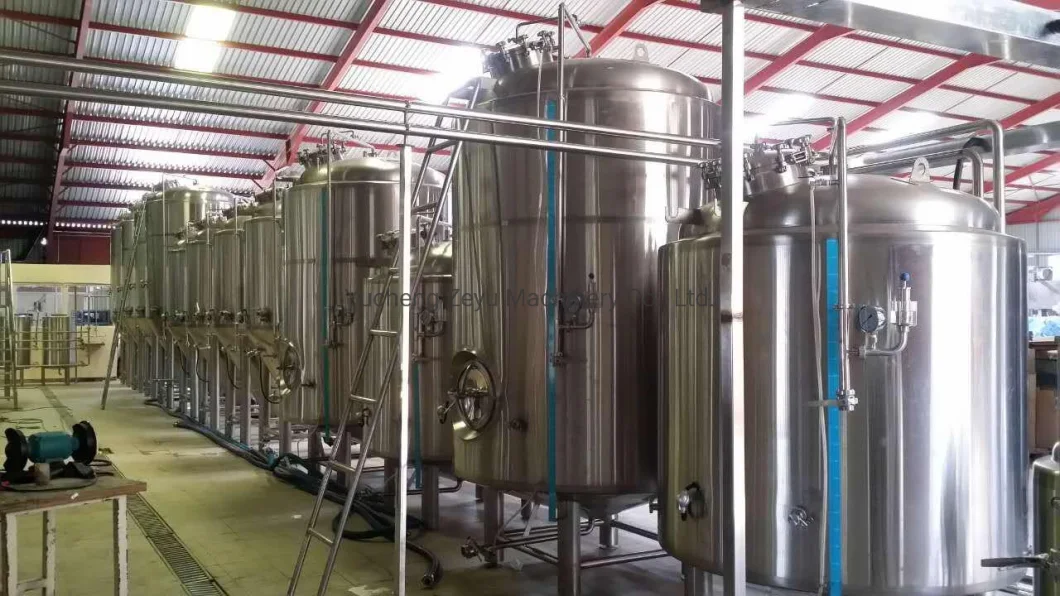 Back side of assembled fermenters on site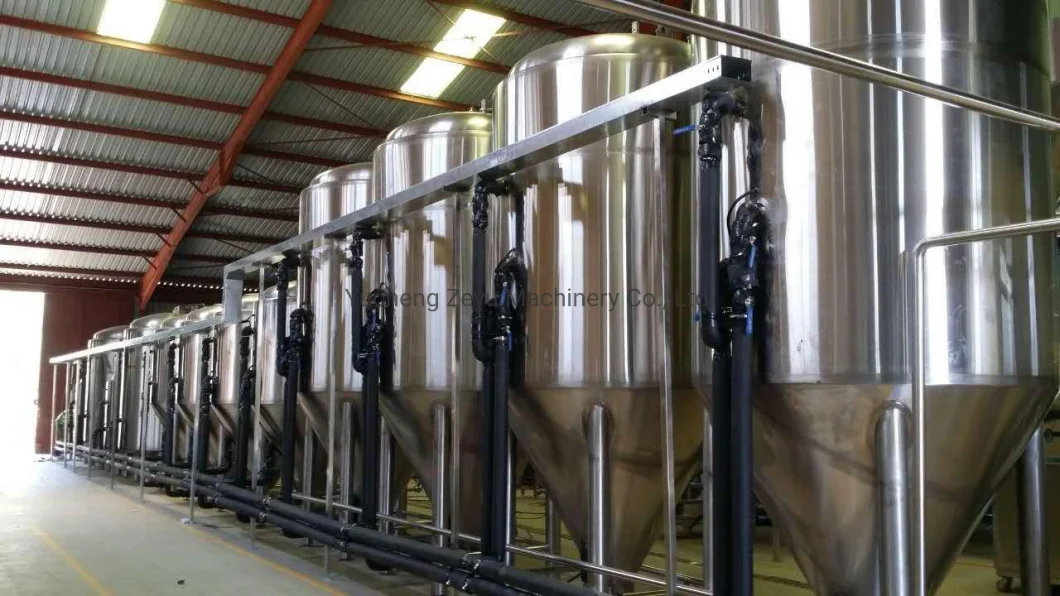 ZYB Family
We are working on spreading the craft beer culture in China and other countries, and try our best to do more and achieve the improvement on technology and quality of craft brewing industry. We help all the people involved in craft beer industry with the most suitable customized solution, supply stable and efficient production and longer term after salves service. We help with the best balance between technology, quality and the value for each clients.
Yucheng Zeyu Machinery Co., LTD, founded in 2013, is the one of the professional and Influential brewery equipment supplier. With the unique technology basis and production advantage, we focus on research, development and fabrication of craft brewery system, After years of development we established stable market in Europe and North America, and are moving quickly on market in China and other area all over the world.
We concentrated more on turnkey brewery projects in the past years, and other brewery system with intention of expanding and extra request on service etc. We supply the best technology and service for all the users which helps us expand our consumer scope. Meanwhile we also made big step on others like distillery, fruit wine and dariry system.
Company Vision
Development: Result leading, customer priority, service
Product: Bring the biggest value to clients
Mission: Promoting Chinese craft brewery to top level in the world
Market: Customer satisfaction, customer value
HR: Bring value to contribution, use action to fulfill the promise.
Our Advantage:
Perfect customized solution for all projects
Detailed and higher efficient turnkey projects management
Higher quality than top level suppliers
Creation of higher extra value and lower cost
Price and product quality perfect integration
Project management experience & continuous service


Manufacture details




Our partner