milk & yogurt Batch Pasteurizer / fermenter / pasteurization vat
Milk Batch pasteurizers
P-WV series are stainless steel, insulated and jacketed tanks with conical bottom and wing cover on the pasteurizer top. Different with our P-WD series pasteurization equipment, P-WV series pasteurizer tank equipped with a conical end (or cone bottom, cone end). This pasteurization tank structure is commonly used to the pasteurization tank of soybean milk, ice cream, gelato, and yogurt.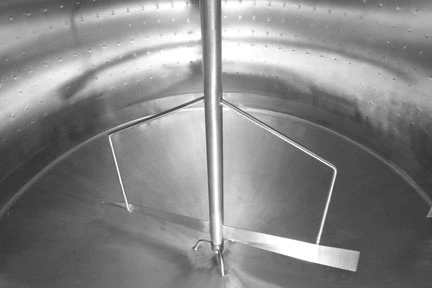 Stainless Steel Batch Pasteurizer heating mode
P-WV series Batch pasteurizer can be heated by steam, 3-phase electric, and gas. For electric heating batch pasteurizer, we need to know you are going to use 220V 60HZ or 380V 50HZ power supply. Some countries and areas may use 415V 50Hz (Australia, the United Kingdom) and 480V 60Hz (TEXAS, USA), please kindly let us know the voltage detail before you purchase our batch pasteurizer, especially when buying our electric heating batch pasteurizer.
Steam heating batch pasteurizer usually use dimple jacket and coil jacket.
For small capacity batch pasteurizer, such as 50L pasteurizer, or 100L batch pasteurizer, you can choose gas as heating medium. Gas heating pasteurizer use oil as heating transfer liquid. In our initial offer for pasteurizer, price for heating transfer oil will not being included.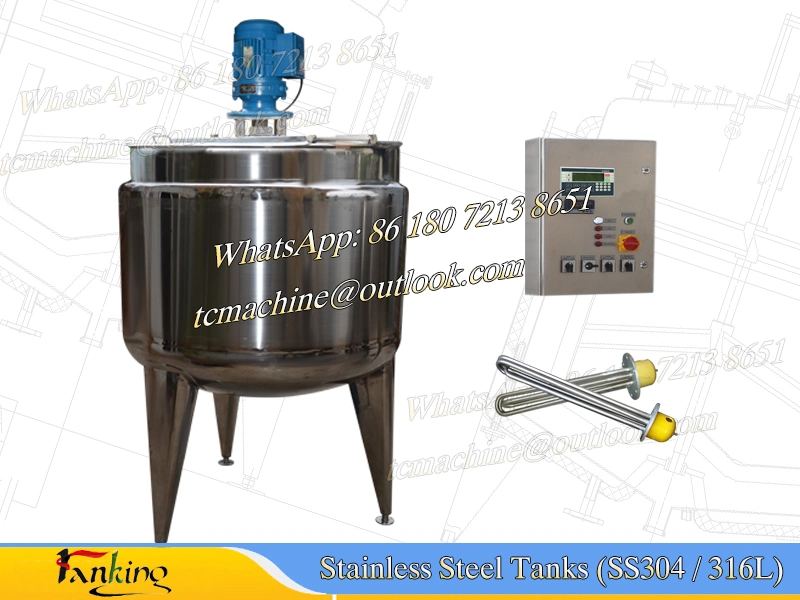 Ice Cream Batch pasteurizer Benefits:
Pasteurize vat / tank capacity can be big or small.

Custom pasteurizer width and height available at no additional charge

Affordable cost compared with HTST tubular type pasteurizer and plate type pasteurizer.

Custom made agitation speed, 36rpm, 60rpm or any other rotation speed

Anchor type mixing paddle, bottom / side scraping type mixing paddle and perforated parallel paddle available.

Removable lids / covers for easy access

CIP cleaning friendly , with CIP cleaning spray ball

Designed for steam, glycol, or hot water boiler system

Friendly to different kind of cooling medium such as tap water, glycol, chilled water reserve tank. Using a plate chiller

Plate heat exchanger will speed up the cooling efficiency.
P-WV series Conical Bottom Batch Pasteurizer specification
Our hot sell stainless steel Batch Pasteurization tank comes in standard and custom sizes ranging from 50Liter to 5000Ltr capacity (about13 to 1,300 gallons). Here below are the standard specification for our hot sell batch pasteurizers
50~200L Milk Pasteurizer Specification
Capacity

50L

100L

200L

500L

Structure

Three wall <inner drum , cooling/heating drum and insulation drum>

Working pressure

0.09 Mpa

0.09 Mpa

0.09 Mpa

0.09 Mpa

Test pressure

0.15 Mpa

0.15 Mpa

0.15 Mpa

0.15 Mpa

Motor

0.55KW / 36rpm

0.55KW / 36rpm

0.75KW / 36rpm

0.75KW / 36rpm

Heating area

0.6 M2
0.9 M2
1.3 M2
1.3 M2

Material inlet / outlet

DN25

DN25

DN32

DN32

Heating method

3 phase Electric

3 phase Electric

3 phase Electric

3 phase Electric

Temperature gauge

0~150

°

0~150

°

0~150

°

0~150

°

Working temperature

0~100 degree

0~100 degree

0~100 degree

0~100 degree

Overall dimension mm

Φ

600×1100

Φ

700×1200

Φ

800×1350

Φ

1100×1650

Weight

100kg

130kg

190kg

190kg

Cooling medium

Cooling by external ice water / tap water

Tips

The specification listed above only for reference. Please contact us directly to get the accurate information of your own batch pasteurizer
P-WV series Conical Bottom Batch Pasteurizer Additional Specifications
Batch Pasteurizer Dimensions are per Client's Request

Horizontal agitator with 0.55 to 3kw mixing power

3phase electric power supply.

Made by 304 or 316 Stainless Steel

3mm (11 Gauge) Interior Wall

Stainless Steel Dimple Plated Jacket (for hot water or steam)

1.6mm (16 Gauge)Dimple Jacketed

1.5~2mm (14 gauge) Exterior Wall

Jacket Rating 0.35Mpa (50 PSI)

Mirror polish for inner pasteurizer and matte finishing for outer wall

2" Polyurethane Insulation

1-3 Heating Zones Available
Package for the dish end pasteurization tank accessories
Here are some optional accessories for our pasteurizer, some of them are necessaries, and some others may be necessaries in some countries and areas, before you place order, please get in touch with us on the accessories, or consult your local Food and Drug Administration (FDA) or other similar organization.
Round paper recorder

Paperless recorder

Air space heater

Air space heater controller

Bottom Sweep Agitation

Mechanical seal

No mechanical seal (

Default configuration and suggested configuration

)

tank Vent

Lifting Lugs,

Adjustable Ball Feet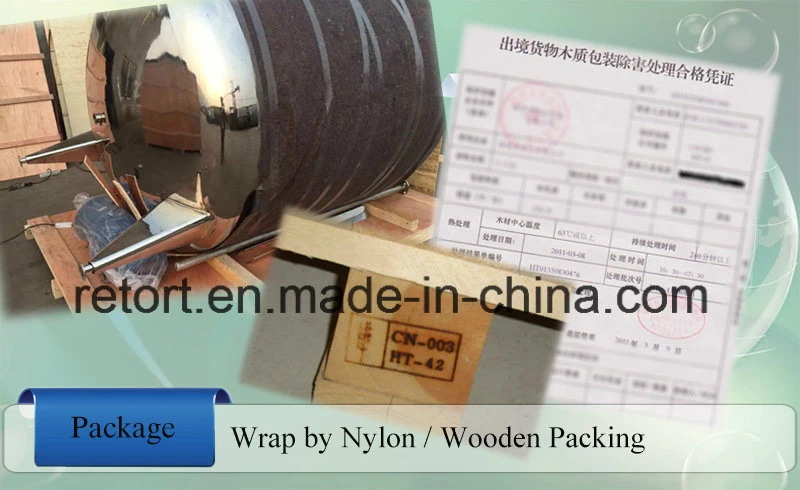 Other details about our Batch Pasteurizer, let's have a talk directly: